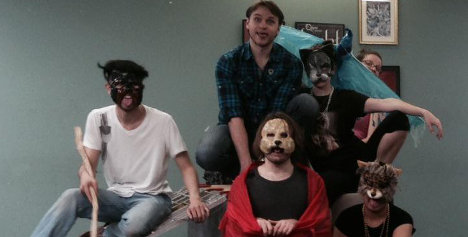 The Grey-Bruce Arts Collective, in association with the Beautiful Joe Heritage Society presents the world stage premiere of Beautiful Joe adapted from the Margaret Marshall Saunders novel.
Having been in workshop last season at the SpringWorks Festival in Stratford, Ontario this heartwarming story of Meaford's own canine hero takes the stage at Meaford Hall, May 14-17.
Acclaimed playwright, Michael O-Brien creates a play with a decidedly clear, passionate message that is moving and funny tale for the whole family set in a distinctly Canadian landscape. Beautiful Joe is not only a play, but an invaluable lesson in courage and compassion. In this very timely production, the theatre is a classroom inspiring children and adults alike that this very thing, compassion, can stop the cycle of abuse. Our Beautiful Joe shows us that whether it be inflicted on a person or an animal, cruelty is cruelty; the bark is just as harmful as the bite.
The cast features Mackenzie Muldoon as Clown & Laura; Ryan Boyko as Joe; Brendan Rowland as Jenkins, Mr. Morris, Bellini and Mr Maxwell; Lorretta Bailey as Jess, Mrs Morris, Mrs Montague and Aunt Mary; Wilex Ly as Jim, Mr. Barron, Hen and Ivan the goose; Holly McCourt as Young Girl, Cow#1, Bella, Conductor and Police #1; Mark Gallagher as Baby Joe, Mr. Wood, Uncle John and Princess Alice; Mr Richard Marchment as Harry and Toby; Kathryn Langridge as Pre-show voice, Cow#2, Dutchman and Farmhand # 1; Chantelle Tanguay as Malta and Puppy; Clea McCaffery: Young Boy, Puppy, Tavern Keeper and Farmhand #2 and Courtney Meloche as Minstrel.
Artistic credits include Director Roger Shank, Pre show voice and FX designer Brett Brownlee, Courtney Meloche Composer and Stage Manager Leslie Jost.
Veteran Toronto actors of stage and screen, Ryan Boyko and Mackenzie Muldoon have been with Beautiful Joe through the workshop process. "Playing Laura (Joe's rescuer and best friend) has been a truly rewarding experience" says Mackenzie. "Laura's youth and optimism and positive approach to life is inspiring. I love the role."
"During rehearsals, we have really bonded as a company. We have veteran professionals and newcomers to the craft exploring and really pushing their boundaries as artists. It has evolved into a true ensemble piece and everyone has worked so hard. I am so excited to share this with the audience in Meaford." Says Roger Shank, director.
Limited engagement – only 6 performances
Performances are at Meaford Hall which is located at 12 Nelson Street E, Meaford, Ontario. Performance dates and times are:
Wednesday, May 14 (Preview Performance): 2:00 pm and 7:30 pm
Thursday, May 15 (Opening Performance): 7:30 pm
Friday, May 16: 7:30 pm
Saturday, May 17: 2:00 pm and 7:30 pm
Tickets are $25 for Adults and $10 for students and can be purchased through the Meaford Hall Box Office at 1.877.538.0463.