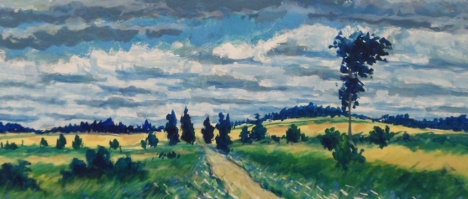 A retrospective exhibit of works by the late Meaford artists, Chuck and Margot Finley, will open at Meaford Hall with an evening reception on June 5th, 2014 and will run for two months until July 30th.
This exhibit has become somewhat of a collaborative community project.
Last year a committee jointly sponsored by Meaford Hall and the Meaford Museum announced that it was interested in mounting an exhibition of the work of the late Meaford artists, Chuck and Margot Finley. The committee hoped to mount the retrospective in the galleries of Meaford Hall in the summer of 2014 and had asked that people owning the art contact the committee.
The committee chair, Jack Morgan, recently announced that the committee had been impressed by the extent of community response to the appeal. The committee had just finished looking at over 250 oils and watercolours by the Finleys and was in the process now of deciding which pieces would hang in the galleries and which would be photographed and presented as a slide-show during the exhibition. He pointed out that obviously the couple's work had been very popular and much of it had stayed in the community or was owned by friends and relatives with ongoing ties to Meaford.
He added that the careers of the two artists spanned much of the 20th century and that this retrospective exhibit would attempt to document some small part of that history as reflected in the lives of the artists.
The committee is being supported by the Apple Harvest Craft Show as the lead sponsor, with assistance from the Meaford Hall and Culture Foundation, the Meaford Community Grants Program and the donations of private citizens.