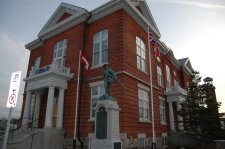 When an egotistical, arrogant prince unkindly turns an old woman from his castle door on a dark and stormy night, he is taught a lesson in caring more about others than for himself. For his rudeness, the old woman magically transforms him into a "Horrible, Nasty Beast!" who is forced to hide in his castle, away from humanity, and care for an enchanted rose. Do you know what happens next?
This March Break, introduce your favourite youngsters to the magic of live theatre with the classic tale of Beauty and the Beast. Taking place at 2 pm on Wednesday, March 12 at Meaford Hall, tickets for youth 12 and under are only $10. Adult tickets are priced at $20 and group discounts are available through the box office for this special show.
Patrons can expect a fun, energetic performance that will entertain the whole family. Audience interaction is encouraged! Children will be happily participating in no time. Some may even be chosen to come on stage, don a costume and act a part! As you might imagine, this makes for a hilarious and engaging experience for all ages.
Beauty and the Beast will kick off a very full month of March at Meaford Hall, with the family theatre show being followed on the 14th by internationally acclaimed fiddler Ashley MacIsaac. A tribute to the legendary Johnny Cash and the Queens of Country takes the stage on March 22nd, and a matinee performance by the memorable family entertainer Fred Penner wraps up the month on the 23rd. In addition, two Thursday Flicks and a Transition Meaford film will be shown on the big screen and a fundraising exhibit of Wildlife Prints will move into the Galleries.