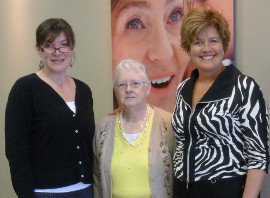 Meaford's Hear Well Be Well office was one of nine locations to provide a lucky winner with the gift of hearing this month, and Fay Graham of Flesherton is more than pleased with her new hearing devices.
The Hear Well Be Well chain teamed up with Beltone Canada to ask south and central Ontario residents to nominate friends and family who would benefit from receiving the gift of better hearing. The program provided one lucky recipient for each of nine Hear Well Be Well offices with a complete hearing test and fitting of two Beltone state-of-the art hearing aids.
"Asking people to repeat themselves has brought such frustration that most days her joy is replaced by exhaustion and a sense of loneliness," her husband Gordon said in his nomination. He wrote a compelling account of Fay's ongoing struggle with hearing loss over a number of years. He describes her as a loving and caring mother and wife, who he misses dearly. "The Gift of Hearing would mean a more fulfilled life for Fay and in return it would reconnect us, giving me the gift of my best friend, my wife!"
"When you start losing your hearing, it's just something that you cope with a little bit each day, and you don't really feel that you have had a loss of hearing. But eventually I found myself being very frustrated because I couldn't hear well, but I didn't realize that was what was frustrating me," Fay Graham told The Independent. "It's something that unless someone is experiencing it, they don't really know."
After seeking help with her hearing, she says that life has become much easier.
"Now people aren't repeating, repeating, repeating. I know it was frustrating for other people, and it was frustrating for me because I couldn't understand what they were saying," said Graham, who added that everything from leisure activities to watching television were impacted by her gradual hearing loss.
As well as being frustrating, the loss of hearing impacted her relationship with her husband, who also has experienced hearing loss. Since having her hearing tested and being fitted with new hearing aids, Graham says that she and her husband are doing things together again, and they can speak to each other without constantly having to repeat their words.
Graham said that she had been experiencing hearing loss for more than five years before she sought help – a not uncommon story, according to Hear Well Be Well CEO Kathleen Tiede, who told The Independent that the most common reason patients avoid seeking out help is the fear that they will be burdened with what they assume will be a large, unsightly hearing aid.
"The number one reason why people are reluctant to get help is their fear of it not being discreet," said Tiede.
Tiede says that hearing aids have come a long way from what we might recall from years past. Digital technology has made the devices smaller, and better able to be custom programmed for the patient and the various environments and challenges they and their hearing encounter.
"In general, ten percent of the population have a hearing loss, but as you get to the age of 65, 50 percent have a hearing loss that can be corrected with hearing aids. It's a staggering number. We start losing our hearing at the age of 30. So, it's a decline from the age of 30, so it can be years before someone realizes that they have a hearing loss," explained Tiede, adding that many people wait 10 or 15 years before seeking help with hearing loss.
Hear Well Be Well is a provider of hearing health care and solutions in rural and small towns of southern and central Ontario. The Meaford Hear Well Be Well location opened a year and a half ago, and Tiede says that they have steadily grown a patient base.
"It's been really well received. I think a lot of local people are happy they don't have to drive (outside the municipality) because we have an ageing population in Meaford," said Catherine Dugas, who is a Client and Community Representative at the Meaford location.
When asked about the importance of having a hearing service located in a smaller centre like Meaford, Graham, who lives in nearby Flesherton, said, "It's just marvellous. Otherwise we would have to go to Owen Sound, but I'm over here, I have a son and his family living here."