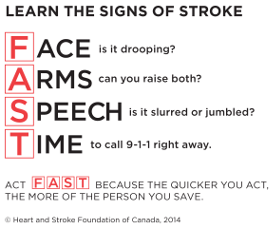 Grey Bruce Health Services (GBHS) is part of the South West Stroke Project, which is realigning stroke care in the South West Local Health Integration Network (LHIN) area to ensure people who have a stroke or TIA (transient ischemic attack or mini-stroke) receive the best possible stroke care, with the best chance for a full recovery.
GBHS's Owen Sound Hospital has become one of seven Designated Stroke Centres in the southwest LHIN region, and staff has received specialized training in the rapid assessment and treatment of stroke patients.
Each year in the South West LHIN about 3,500 people in emergency departments are diagnosed with a stroke/TIA (transient ischemic attack or mini-stroke), or a suspected stroke/TIA.
"In realigning stroke services, we are helping to ensure people across our LHIN are getting equitable access to best practice stroke care. Stroke survivors have the best outcomes when they are cared for in a centre that specializes in stroke services and provides best practice care. These changes to how we deliver stroke care are helping to reduce mortality and improve the outcomes of stroke survivors throughout our geography," explained Michael Barrett, CEO, South West LHIN.
Individuals who are experiencing symptoms of a stroke should call 9-1-1 immediately. EMS will take patients to the nearest Designated Stroke Centre. tPA is considered most effective if provided within 3.5 hours of the onset of stroke symptoms, and is only available at Designated Stroke Centres.
By the end of March 2017, all stroke patients in Grey and Bruce will be treated at the Designated Stroke Centre at the Owen Sound Hospital.
"Patients who come in with stroke symptoms receive a CT scan for accurate diagnosis, and if appropriate, they are treated with tPA, a clot-busting medication that can potentially reduce or eliminate the damaging effects of stroke, all within 60 minutes," said Joan Ruston-Berge, GBHS, Manager, Rehab and Stroke.
The GBHS designated stroke team consists of experts who provide acute stroke unit care, inpatient stroke rehabilitation, community rehabilitation programs, and a variety of stroke services including speech, occupational therapy, physiotherapy, dietitian, social work, nurse practitioner and stroke education.
For more information on the South West Stroke Project: www.swostroke.ca/about-swsp.