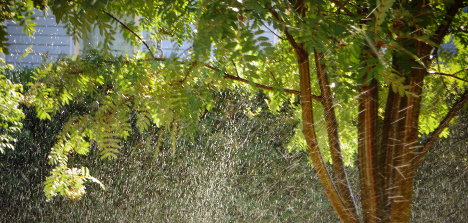 Whether you're staying home or planning to travel this summer, there are a lot of ways to be kind to the environment -- and save money too.
Fill 'er up. Carry a reusable water bottle and fill it up at water fountains while you're on the go.
Get with the program. A programmable thermostat can reduce how much energy you use. Set your air conditioner for 25 C when you're at home and 28 C when you're away.
Run against the clock. Run your ceiling fan counter-clockwise to efficiently circulate a breeze in your home.
Your lawn needs only 2.5 centimeter or one inch of water per week split over two watering times. Planting a tree or shrub to shade your air conditioner can improve the unit's efficiency by up to 10 per cent. Cut down on water consumption by setting up a barrel to capture rainfall from eavestroughs and using it to water your garden.
Put laundry 'online'. Give your dryer a break. Dry your clothes and linens outside and benefit from the sun's natural drying power.
Keep gatherings green. Use reusable dishes and utensils when entertaining outdoors to reduce waste. And brighten up the table with some Ontario-grown flowers.
Eat fresh. Choose Ontario-grown fruits and vegetables to support our local farmers and cut down on the distance your food has to travel. Follow Foodland Ontario on Twitter and stay up-to-date on what locally grown fruits and veggies are in season.
Leave the car in park. Squeeze in some extra outdoor fun by biking, walking or rollerblading to get around town.
"Just a few small changes to your summer routine can help you get the most out of the great weather and help protect Ontario's environment," said Glen Murray, Ontario's Minister of the Environment and Climate Change.