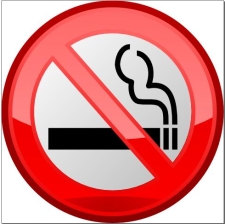 The Grey Bruce Health Unit congratulates all 11 hospitals in Grey Bruce for making their grounds 100 per cent smoke-free. The policies come into effect on World No Tobacco Day, May 31.
All patients, visitors, volunteers and staff are not permitted to smoke while on hospital property. This includes parking lots. The new policies will be enforced by hospital staff.
"Research shows there is no safe level of exposure to second-hand smoke, even outdoors," said Dr. Hazel Lynn, Grey Bruce Medical Officer of Health. "We are pleased that all the hospitals in the region have come together to make their grounds smoke-free. This is great step to help improve the health and well-being of everyone in our community. Smoke-free means patients get better faster. It lessens their chances of post-surgical complications and gets them home sooner."
People presenting at hospitals will be asked about their smoking status and provided information regarding quit smoking services. For patients staying in the hospital, nicotine replacement therapies will be provided to help manage nicotine withdrawal symptoms while in the hospital's care. Quit smoking supports including cessation counseling and medications will also be available to hospital staff.
To learn more about the hospital policies please visit one of the following hospital websites:
Grey Bruce Health Services http://www.gbhs.on.ca/
Hanover District Hospital https://www.hanoverhospital.on.ca/
South Bruce Grey Health Centre http://www.sbghc.on.ca/
For smokers wanting to give up smoking, the Grey Bruce Health Unit hosts the STOP program. STOP offers counseling and the patch (nicotine replacement) to support quit attempts. Quitting is one of the most important things a person can do to increase their overall health and well-being.
Tobacco is the number one cause of preventable disease and death in Ontario. Every year, smoking and exposure to second–hand smoke contributes to 13,000 deaths across the province. On any given day in Ontario, approximately 7000 hospital beds (20 per cent) are being occupied by current smokers.