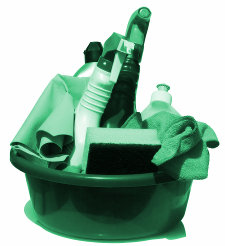 Have you ever wondered what all of the ingredients in your cleaning products are? Ever wondered what all of those symbols on the packages mean?
Come to the Meaford & St. Vincent Community Centre Dance Hall on Tuesday April 22 nd , 2014 to find out!
The Meaford Area Community Association (MACA), in conjunction with Earth Week, presents Women for the Water, a non-profit organization, whose mission is dedicated to providing environmental awareness through education, to inspire change and promote the care of our delicate water ecosystem.
Women for the Water will present:
A Canadian film entitled "Chemercial", which depicts a family and their struggles to "go green" in their cleaning products, and a follow-up presentation entitled: "Hazards of Household Cleaning Chemicals and How to go Green."
The seminar will discuss how to read labels, and common toxins in household cleaning products, as well as how to look for and create your own safe certified cleaning products.
For further information you can contact: MACA @ macafeedback@gmail.com
Evenings Jenean 519-538-2753
Date: Tuesday April 22 nd , 2014
Time: Film @ 7:00pm, Presentation @ 7:45pm
Location: Meaford & St. Vincent Community Centre