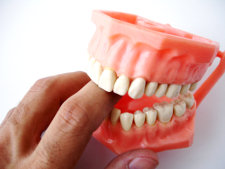 "Do you know that April is national oral health month? That's right, this month is the perfect opportunity to take some time out of your hectic life to look after your teeth and gums," read an announcement spoken at GBSS last Thursday.
"How about booking an appointment with your hygienist? Or maybe try cutting down on the amount of sugary and acidic foods you eat?" the announcement continued, ending with "I challenge you to celebrate oral health month and start a good oral hygiene routine- and don't forget to floss!"
This announcement was read by Carolyn Cramp, a co-op student working with Kelly-Ann Macknight, a local hygienist and health promoter. Macknight heads up Great Smile Dental Hygiene Services in Meaford, as well as being highly involved with public health outreaches.
Being as this month is oral health month, and the week of April 6th-12th is National Hygienist week, they are using this time for additional public outreaches.
One of the outreaches that Macknight and Cramp planned was tobacco awareness sessions at GBSS on April 8th. These entertaining and informative sessions lead by public health workers, were designed to introduce students to the dangers of tobacco and the associated cancer risks.
Other outreaches include a visit to St. Vincent Euphrasia Elementary School on April 15th. They have also made radio appearances with Bayshore Broadcasting's Donna Henry and Bob Bannister's.
The promotions are targeted towards different ages and causes. One of the specific areas is targeting young kids, and promotes healthy eating. Cramp explained that if you look inside the lunch box of most young students, you'll find it filled with unhealthy choices.
"We want to promote bringing water instead of a juice box, or an apple instead of candy," she explained.
One of the key messages that they hope to promote is that oral health is just as important as other health aspects. They believe that individuals should spend just as much time and care on keeping a healthy mouth, as many do working on their abs at the gym, or on their legs while jogging.
They explain that having negative oral health, can lead to other side effects in your overall health. While many may think that it is simply the whiteness of your smile that is at stake, it could very well be a whole lot more.