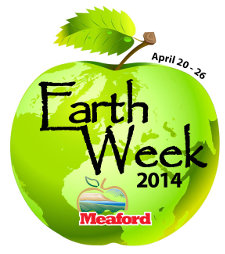 The Municipality of Meaford will be hosting its first annual Earth Week (EW) activities this coming April, from April 20-26.
The week will begin with the annual spring clean-up at Memorial Park, Sunday, April 20, in partnership with the Friends of Memorial Park, and end with a Reuse Fair on Saturday, April 26 at the Meaford and St. Vincent (MSV) Community Centre with some interesting activities in between.
Local volunteers have teamed up with the Municipality of Meaford to move Earth Week plans forward to make Earth Week a dynamic event with positive, long-term results.
Our community has already embraced local actions that support a healthy earth, demonstrated by the large turnout at the 2013 spring clean-up of Memorial Park and the municipality adding environmental directives into its Official Plan, actions that enhance the odds of leaving a livable community for our children and grandchildren.
Working towards zero waste is a strategy that is being accepted as a smart and sustainable option. The Municipality of Meaford rose to this challenge in 2011 and was number 1 in waste reduction and diversion in Ontario. The Reuse Fair on Saturday, April 26th is the perfect vehicle to further build upon our municipality's success.
Community groups are invited to submit a wish list of specific items that their group needs to the EW organizing team: for example Meaford Community Gardens may wish for a used push-by-hand lawn mower.

Wish list order forms will be available on www.meaford.ca website, at the Meaford Library, Museum, MSV Community Centre, Meaford Hall and rural halls, or by calling Lindy at 519-538-0167 or Jane at 519-538-2995.

The master wish list will be publicized well in advance of fair day, starting March 1, 2014.

On the day of the Reuse Fair, from 10:00 am until 3:00 pm donors may bring wished-for items to the SVM Community Centre.

At the end of the day, the 'too good to be through' items can be picked up by community group representatives.
Watch traditional and social media outlets for upcoming details on Meaford's first annual Earth Week and Reuse Fair: on Facebook, Community Services Meaford, and the Municipality of Meaford website www.meaford.ca.
If you'd like to lend a hand with Earth Week, and for more information, contact Amber Knott, Supervisor, Recreation Programs & Harbour Services, 519-538-1060 ext 1200aknott@meaford.ca