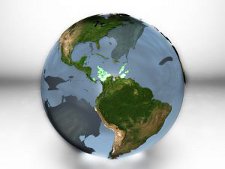 Are you downsizing or spring cleaning? Consider doing something fun and practical with unwanted items by being a part of Meaford's second Earth Week RE-Use Fair.
RE-Use Fairs are a practical and fun way to support the goal of zero waste in our community. It is being held this year on Saturday, April 18 from 9 am to 1 pm at the Meaford and St Vincent (MSV) Community Centre. A light lunch and the talents of local musicians will also be provided.
Here's how Meaford's Reuse Fair works:
Community groups are invited to submit a wish list of specific items that their group needs to the Earth Week team. For example, Meaford Community Gardens may wish for a garden gate. Wish list order forms can be found at www.meaford.ca from the home page, under Special Events.

The master wish list will be publicized well in advance of the fair day, starting March 25, 2015 at www.meaford.ca under Special Events on the homepage, as well as in traditional and social media outlets.

On the day of the Reuse Fair, from 9 am until 1 pm donors can bring wished for items to the MSV Community Centre.

At the end of the day, the 'too good to be through' items will be picked up by community group representatives.
For assistance with the wish-list form, visit Amber Knott at the MSV Community Centre or call Lindy (519-538-0167) or Jane (519-538-2995) for assistance.
The Municipality of Meaford's Environmental Services will also be hosting an information table at the RE-Use fair where you can learn more about our programs, such as:
· Blue W
· Plastic Film Recycling
· The Green Up Clean Up Campaign
·  No More Trash Spring Bash
·  Trash Troopers
·  Recyclable single-use battery collection depots
It is now clearly understood by forward-thinking communities that any resources we can conserve, reuse or recycle represent an important and practical step in protecting our environment. The municipality has stretched beyond the blue box recycling program with these other waste reduction and diversion programs.
During last year's RE-Use fair alone, three quarters of a ton of goods changed hands.