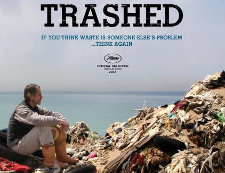 The Meaford United Church (MUC) Outreach Committee in conjunction with Meaford Area Community Association (MACA) and Transition Meaford is hosting a movie showing of the documentary "Trashed".
Jeremy Irons stars in this documentary about global waste. In Trashed he visits once pristine places to show how they have been tainted by garbage.
Irons sets out to discover the extent and effects of the global waste problem, as he travels around the world to beautiful destinations tainted by pollution. This is a meticulous, brave investigative journey that takes Irons (and us) from scepticism to sorrow and from horror to hope….With Jeremy Irons as our guide, we discover what happens to the billion or so tons of waste that goes unaccounted for each year."
The film will be shown at 7:00 pm on Wednesday March 19th, at the Meaford United Church (corner of Boucher and Sykes Streets). Admission is by donation.