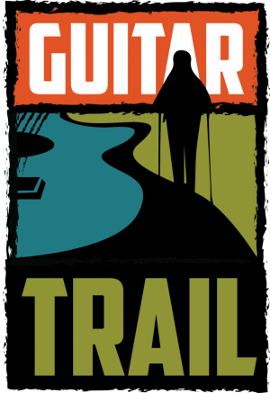 After being named 'Best New Festival' by Festivals and Events Ontario in 2014 and achieving the prestigious Top 100 Status in 2015, the Guitar Trail enters its third year ready to up the ante on fun and entertainment.
From 1 to 4 p.m. on Saturday, September 10, 20 artist locations will provide the soundtrack to the Trails at Blue with guitars, voice, drums, and ukuleles as visitors trek up, down, and around the mountain.
Guests will follow the map and should they wish, complete the scavenger hunt provided at check-in for prizes and giveaways.
The hike is roughly 60 minutes but allow two to three hours to enjoy all the performers. Guests can enjoy a free open-air gondola ride down the mountain following the hike – an excellent opportunity to see and capture the amazing views looking out over Georgian Bay. Or, purchase a ticket for the gondola ride up and hike down. The first 200 guests to complete the scavenger hunt will receive a fresh apple tart and a copy of the Village's own CD, "Best of Blue", a compilation of 12 songs, many by artists along the Trail.
"This is the best way for families to kick off the fall hiking season," says Patti Kendall, Director of Marketing & Events for Blue Mountain Village. "Last year we doubled our attendance and the feedback from our guests was overwhelming. Incredible scenery, interactive music and the chance to see legendary Alan Frew will make this your best hike of the season!"
New this year, Joe Rockman, founding member and bass player of the Jeff Healey Band, will be on site for tips and an opportunity to jam with Joe. Bring your own bass or use the guitar at Joe's bass station. Also returning is luthier Tony Carol, talking about the timeless art of guitar making, local drummer Bambalamb! hosting interactive drum lessons, and, at the top of Blue Mountain the Beinn Gorm Highlanders Pipe & Drum band. The festival concludes with a free concert by multi-Juno Award winning and Grammy nominated performer Alan Frew at 4:30pm on the Coca-Cola Village Stage, with songs from his Glass Tiger days and his extensive catalogue of solo work.
Full details on the Guitar Trail™, including the full list of performers, can be found online at www.BlueMountainVillage.ca/GuitarTrail.