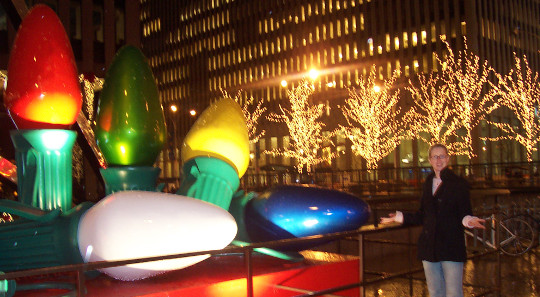 There have been countless songs written about the enchantment that New York City possesses. The most popular of which all share the same message: New York City is one of the best cities, if not the best city, in the world.
Famous artists have created anthems that are timeless and that the vast majority of people have at least heard once in their lives. Some of the more notable ones are New York, New York by Frank Sinatra, Empire State of Mind by Jay-Z and Alicia Keys, and, most recently, Welcome to New York by Taylor Swift. The latter being so influential that it earned Swift the title of being the city's official tourism ambassador for 2014! What is it about the city that never sleeps that is so charming and alluring? Everything.
I have had the good fortune of travelling to New York City three times, with each trip making me love it even more. The people; the architecture; the history; the attractions; the culture; the food; and the Christmas season in the city are only some of the reasons why.
One of my trips happened a week before Christmas, and it was everything that movies and TV shows have depicted about the festive atmosphere that enraptures the city. It seemed that every street I went down and every building I passed were illuminated with Christmas cheer or decorated to the nines. For 2.5 miles along Park Avenue, trees were lit up, the Cartier store on Fifth Avenue had a massive bow tied around it, and at 1251 Avenue of the Americas giant Christmas bulbs were in a fountain. A giant UNICEF Snowflake hung over the intersection of Fifth Avenue and 57th Street; Macy's had large Christmas tree lights in front of the store, while at night, Saks Fifth Avenue had a Christmas lights display against its architecture.
Not to mention, classic Christmas songs played everywhere, and at least a half-dozen massive Christmas trees spread throughout the city. Some of which were on Wall Street outside of the stock exchange, Washington Square Park, Madison Square Park, Radio City Hall, and, most notably, the Rockefeller Centre overlooking an iconic skating rink. With over 45,000 lights strung across this tree, it is no wonder why the Rockefeller Center is the capital of New York City Christmas!
During another trip, my mom and two of our family friends went to the famous Carnegie Deli on Seventh Avenue. This deli has a celebrity wall not to be trifled with, aiding to its notoriety of being the best deli in the city. Carnegie Deli's most unique sandwiches are cured and smoked meats such as corned beef, brisket, and pastrami. Not only is the Deli known for their meats, but also for their hospitality with proportions - with sandwiches usually weighing in well over a pound!
My mom and Julie both chose the Capers on the Lox (smoked salmon, cream cheese, a toasted bagel, topped with capers), and Alex had a bagel with cream cheese. Although corned beef had never been one of my favourite meats, since it was a staple at the deli, I chose to have the $19.99 corned beef on rye sandwich. I was torn between thinking there would be a lot of corned beef in a $19.99 sandwich or barely any in comparison to the $29.99 one. Needless to say, when our food arrived, we were all left speechless. All three plates had what looked like an entire tub of Philadelphia, in addition to the almost full-sized salmon that my mom and Julie had. My plate had a gargantuan amount of corned beef between two thin (relative in size to the amount of meat) slices of rye bread with pickles on the side.
My Mom, Julie, and Alex did not feel the need to have to finish their outrageously giant proportions, but I, on the other hand, certainly felt the need. Call it determination, bravery, dedication, or insanity, I persevered and finished everything on my plate.
Feeling very accomplished, when our waiter was clearing our table, I asked, "How many people can finish this sandwich?"
"Lots, that's, like, our smallest one!" he replied.
"Oh."
Another famous restaurant we went to was called Serendipity 3, and if you have ever seen the movie sharing the same name (starring John Cusack and Kate Beckinsale), then you know how quirky and cute this place is. It was New York's first coffeehouse boutique and is known as the home and inauguration of frozen hot chocolate. However, Serendipity 3 doesn't serve an average frozen hot chocolate: it's a humongous masterpiece! It's served in an oversized glass and topped with whipped cream and chocolate shavings. They have a variety of different options aside from the vintage frozen hot chocolate, such as peanut butter, mochaccino, or pineapple lime. We decided to stick with the classic New York favourite, and it tasted exactly how you think it would taste: frozen chocolate, heavenly goodness.
The last iconic restaurant we ate at was Tavern on the Green, for Sunday brunch. With over 20 film appearances (Ghostbusters, Wall Street, Alfie, New York, I Love You, to name a few), and the extensive publicity the restaurant receives, we knew we had to experience it for ourselves. Nestled in Central Park, in the 1870s it was originally designed as a house for the sheep that grazed in the park, but in 1934 it was converted into a restaurant that served presidents, royalty, actors, locals, tourists, and artists for decades.
As soon as we approached the entrance to Tavern on the Green, it was as if we possessed a new kind of nobility. Employees were dressed in elegantly pressed tuxes and provided us with superior first class service. We ate in the Crystal room, an immaculate dining space with white linen table tops, chandeliers, and glass walls facing Central Park, giving the area an exquisite view. We each had the eggs Benedict, and once we had the first bite, we ate the rest of our breakfast in silence. I have never had better-cooked eggs, perfectly toasted English muffins, succulently cooked ham, or perfect hollandaise sauce in my life.
What unforgettable experiences.