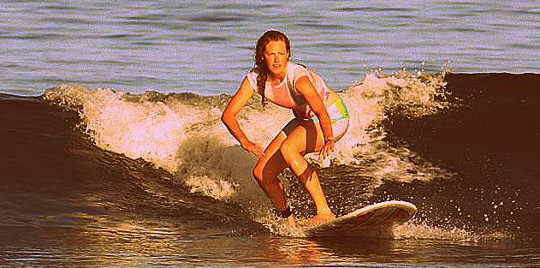 Beep...Beep...Beep...Beep...I sluggishly rolled over to turn my alarm off only to fall back asleep instantly. However, no more than 15 seconds passed before I remembered why my alarm was buzzing at the ungodly hour of 5:30 am: morning surf.
Corey (a best friend of mine) and I were in our second week of travelling throughout Nicaragua. Our first week was spent touring the city of León and hiking its many beautiful volcanoes and mountains, and our second week would be at Rise Up Surf Nicaragua.
Rise Up is an eco-friendly and sustainable all-inclusive surf camp that caters to a maximum of 16 guests. Its location is on the northwest coast of Nicaragua in Punta Aposentillo, an hour and a half drive from León. In addition to winning the 2015 Certificate of Excellence from TripAdvisor, Rise Up also has a sea turtle conservation project, donates surfboards to local children, and includes the small community that surrounds the camp in their prospering business in a variety of credible ways.
When Corey and I were in Oahu a few years earlier, we shared our hostel room with a surf instructor from Germany who offered to give us free surf lessons. We gladly accepted his offer, but after the lesson we didn't get the opportunity to surf again while in Hawaii for what he taught us to have a lasting impact on our surfing abilities. Although we technically had experience, we both decided to refrain from telling anyone this and started as complete novices while at Rise Up.
I sprang out of bed and quickly threw on my bathing suit and rash guard, brushed my teeth, grabbed a towel, and was out of my room in less than five minutes. As soon as I walked onto the patio where couches, hammocks, a bar, and our ridiculously large dinner table (big enough for all guests and workers to sit around and enjoy meals together), I could feel the excitement bustling in the air. For most of the other guests, it was their first morning surf too, so while people sipped coffee and enjoyed a mini breakfast (our real breakfast would come after morning surf), everyone exchanged pleasantries, swapped travel stories, and professed their love for surfing and their desire to learn.
One of the many great additions to Rise Up Surf Nicaragua is that there is no Wifi. Zero. Zip. Zilch. Nada. So while everyone slowly made their way from their rooms for the morning surf, they were greeted by smiling people deep in conversations, rather than people with their heads down and faces illuminated by their screens.
"All right, if everyone could come over here and line up in front of Oscar, Ryan, Melky, Chinto, Marvin, or myself, we'll get you fitted up with your surfboards!" One of the instructors, Chris, said.
After we had each been given a board, we walked down the funky coloured brick staircase that led to the beautiful beach in front of Rise Up. We laid our surfboards down and got into a circle to do some stretches, before our teachers (all local surfers except Chris and Ryan) taught us how to wax the surfboard, and then educated us on the names of each part. Once that was finished, they told us how to put the leash around one of our ankles correctly, and then how to properly 'Pop Up' and do the 'Ninja Stance' on our surfboards for when we caught our waves. Every few surfers were designated one of the surf coaches who then meticulously watched us practise our 'Pop Ups' and 'Ninja Stances' on the beach, before they approved us and we were allowed to wade into the water.
Chris was with Corey, me, and a friendly physiotherapist that lived in Sarnia named Natalie (she was at Rise Up with her boyfriend Jay, and best friend Rachel). Once we paddled far enough out, the three of us sat up on our boards while Chris stood next to us. He explained how, when the right wave came, he would push the tail of the surfboard (so we got a little bit more power going into the wave) before he would shout 'Pop Up!'
"Alright, here we go. Who wants to go first?" Chris said excitedly.
Before I could even give a courtesy 'look around' to Corey and Natalie, Corey yelled, "ME!" and was lying on his surfboard, turning it so the nose faced the beach.
Once the wave was upon them, Chris pushed the tail of the board and yelled for him to paddle hard. After the mandatory three paddles, Chris shouted 'Pop Up!' and Corey popped up, or at least attempted to. I wasn't counting, but he lasted about 2.5 seconds.
"We got another one coming, ladies. Who's next?"
"Go ahead, Kendra," Natalie said.
I laid down and paddled my board's nose around. This was it; this was my moment. This was what all of my snowboarding and skateboarding days had led to. And now all I really had to do was 'Pop Up' longer than Corey had.
Chris grabbed the tail, and before I knew it the wave was there, and he was pushing me. I paddled hard, determined to mimic the surfers I'd watched in countless videos to the best of my ability. I wasn't counting, but for the sake of argument, I lasted 2.6 seconds.
Despite being thrown into the ocean and swallowing an enormous amount of saltwater over and over again, I couldn't help but smile. That being said, after just two hours in the water, mine and everyone else's bodies were destroyed. We were aching in places none of us even knew we could be sore, and it became wildly obvious why surfers are so ripped. Surfing is the ultimate workout because it uses EVERYTHING. Each time you 'Pop Up' it's essentially a push-up; good core strength is needed to help surfers balance on the board; good cardio for swimming; strong arms for paddling; and strong legs for remaining in a squat position while riding a wave (just to name a few).
Regardless of our new-found pain, as we hobbled our way back up the staircase for breakfast, it was clear that no one's excitement had diminished. And as we sat down to a humongous feast everyone was wondering the same thing. "When's afternoon surf?"
What an unforgettable experience.