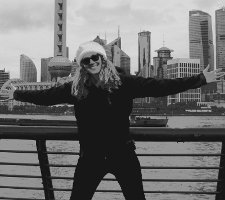 Kendra's Chronicles - A Meaford teacher shares her travel stories
The anticipation of going to one of the most iconic and recognizable places in the world was almost over. My group and I were on a bus on the last stretch of our journey to Machu Picchu, ascending up the 2,000 foot switchback road to the top of the ridge the ancient Inca civilization sat on.
The frighteningly steep road was not well maintained and there were no guardrails on its side, so we were very eager to get to the top, not only to see the ruins but also because it meant we had made it in one piece. It was a beautiful, clear day and we would have fivehours to roam the ruins and/or climb Huayna Picchu if we wanted. Huayna Picchu is the towering mountain overlooking Machu Picchu that looks virtually impossible to climb without the proper equipment. However, we were assured that, even though it would be a strenuous climb and there would be areas so steep it would be like climbing a ladder, people of all ages and abilities could hike it.
When we had finally reached the top of the ridge and the bus doors opened, my friends and I eagerly filed out. Anxious to get to the ruins, we headed straight for an alleyway that was by one of the Inca stone buildings. Knowing we were walking next to ancient architecture that was abandoned in the early 16th century was a surreal feeling, but when we reached its end and faced the centre of Machu Picchu it was even more extraordinary. Its impressive vastness, intricacy, and sophistication were astonishing. The levels upon levels of stone buildings and walls that were carved out of the hillside, and the aesthetics of the site that made those levels and buildings blend right into the mountainside were unbelievable. As we walked around, one of the strangest and coolest things we noticed was that Machu Picchu contained hardly any information about the site, keeping the ruins uncluttered and the land unscathed from placard signs.
Brittney, Mandy, Susie and I walked around Machu Picchu for close to an hour before our legs began to burn from the steep incline it was on. We knew we also wanted to climb Huayna Picchu and that it would take 1 1/2 to 2 hours to climb up and 45 minutes to an hour to go down. Not wanting to be rushed once we had made it to the top we decided to head towards Huayna Picchu, but the closer we got to it the more impossible it looked to hike and the more anxious we began to feel. As we approached the path leading up the gigantic mountain, we saw several people from our bus standing around a large rock getting their picture taken while touching it. I overheard one of the guys say that it was an energy rock and that if climbers touched it before hiking Huayna Picchu it would also bring them good luck. Brittney, Mandy, Susie and I practically rushed the rock, eager to accept any additional comfort we could get – superstitious or not.
The steepness of Huayna Picchu was practically immediate and the path extremely narrow. In the exceptionally steep areas, there was only a rope to help climbers keep their balance while climbing over steps of uneven height. After 45 minutes of treacherous hiking, I heard a man in front of me say that the hike up Huayna Picchu was also known as the 'Hike of Death', from the countless places throughout that, if one lost their footing, they would plummet to their death.
"And on that note, I think I need a break!" I said through gasping breaths. It seemed we were all breathing heavily not only from the steepness, but also the altitude.
We took a quick five-minute break where we re-hydrated and ate a snack, allowing our bodies to also get acclimatized. When we continued to hike we couldn't believe that we kept seeing buildings and terraces. Despite how gruelling the climb up Huayna Picchu was, immaculate structures that also were abandoned in the early 16th century continued to be scattered throughout. Some of them were even built questionably close to the edge of the mountain with a sheer drop of a couple of hundred meters on either side of them.
After an exceptionally challenging and tiring 1 1/2 hours of climbing, we now faced the last section of Huayna Picchu - which also just happened to be the steepest. The narrow, single file, ladder-like climb up was daunting, but even more so because there was no rope or added safety measure along it; if the person in front of you fell, you and everyone behind you would go down with them. Thankfully, everyone took it slow and was careful, and no one looked down.
When we finally reached the top of Huayna Picchu, exasperated and exhausted, any doubts we may have had about why we had just put our bodies through such a demanding hike vanished. The views from the summit were mesmerizing and captivating, and writing about them doesn't give their beauty justice. We all stood in awe, smiling as we hugged and patted each other on the back. The great sense of accomplishment we all felt for having completed such a demanding climb was the type of feeling that doesn't come around daily or even monthly. The breathtaking views made me feel like I was standing on top of the world.
What an unforgettable experience.