Editor,
While walking quietly and golfing on your own,
Your stealth allows you to sneak up on critters.
In the big pond on the Millennium course at MGCC, near holes 5, 6, 7, I came upon this group of four otters. I watched for five minutes as they repetitively dove and came up with something to chew on.
I know there are fish, frogs, turtles, and crawfish in that pond. Eventually one of them saw me and started 'periscoping'. Coming half out of the water to get a good look at this intruder and making loud grunting noises. They soon all began grunting and waving their little fists as if to say, 'Hey! What are you doing here? This is our pond! Take off ehhh!"
I beat a hasty retreat so they could go on about their day.
In non-COVID times, I would likely be in a cart playing with a foursome. laughing and chatting; we would not likely see these animals. So, quiet COVID times do have at least one small upside.
David MacDougall, Meaford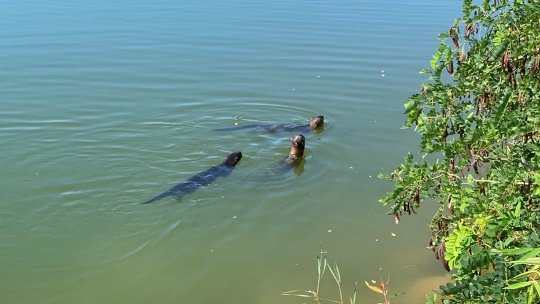 + 16
+ 0