Editor,
Our involvement with Stedmans in Meaford started in August 1983, when we learned that the franchisees (Don and Carole Genova) wanted to leave retailing and go in a different direction. Don and Carole were our neighbours in East York a number of years before that, and I had actually found them a Stedmans franchise for sale in Meaford, when Don was ready to self retire after years at the TTC.
Finding retail was a little hard on the nerves and unlike ourselves, having no previous experience in retail, they agreed to sell us the franchise. We had an established Stedmans franchise in Wasaga Beach since 1979, and made the decision to purchase Meaford in the fall of 1983 (Sept. 2, 1983). As we could not spread ourselves too thin in managing two stores, we were on the lookout for a store manager in Meaford, where fortunately for us Pat Ham had just started working part time at Stedmans.
Pat had left her hometown, Fergus, many years prior to come to Meaford as store manager of a small retail store called, I believe, Sell-Rite. After working there a period of time, she met Don Ham, and the rest is history. She had left the workforce to raise her family, a young son, who passed at an early age, and her daughter Tracy. When Tracy was in high school, Pat decided to go back to work and with her retail background was hired by the Genovas.
Before the purchase of the franchise, I interviewed Pat and realized that she was a perfect candidate for the position of manager of our second franchise. Pat was a no-nonsense person with a strong air of authority about her, and suited her new position like a glove.
After about a year of myself coming over to Meaford to sign payroll cheques, etc., weekly, and aware of her many capabilities, we decided to give Pat the full authority as manager, including cheque-signing privileges on our behalf. For the next ten years, Pat was solely, as mentioned in her obituary, the face of Stedmans in Meaford. It wasn't until 1993 when we sold the Wasaga Beach franchise to concentrate on Meaford, that Pat took the extra duties of office manager, leaving the daily running of the business to Janet and myself.
Until her eventual retirement on June 14, 2004, we found Pat a most dedicated and valuable individual, more than an employee, probably more a friend and advisor in the Meaford community. We always shared our personal insights with her and valued her opinions. After leaving Stedmans and Meaford, Pat went back to Fergus, where we visited her from time to time until her decision to join Tracy and Roger's family in Kingston in 2015, where she doted on her grandson (also named Roger) and enjoyed knowing she became a great-grandmother before her passing.
In the retail business, you have an opportunity to meet many different types of people, whether customers or staff, but rarely do you meet an individual like Pat Ham, who was truly a dedicated and extremely valued employee, who took her responsibilities seriously, but also was a good friend and advisor. "Rest in peace, dear Pat".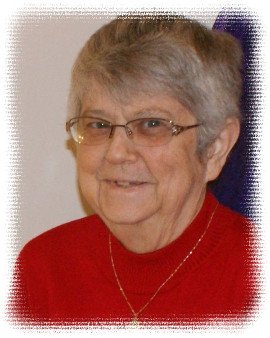 Janet & George Potopnyk (Stedmans Franchise dealers, 1983-2007)
+ 25
+ 2