Editor,
We thank all of our customers for your years of support at one of the last Stedmans stores left in Canada.
We have been blessed to have been given the opportunity to come to Meaford to manage this unique store for the past fifteen years. Some of our favorite comments from you, our customers, were very much appreciated. Comments such as, Stedmans always has what I am looking for, cannot believe how much stuff you can fit into this store!
Those comments came from our loyal local customers and from the customers we saw only once a year while they vacationed in the area. Working in this store with our amazing staff and customers was like going home for a family visit every day. The store thrived in a very competitive retail environment because of our very helpful and dedicated staff who always treated the business as if it were their own.
The decision to close the store was extremely difficult because it has been a Sykes St. icon for a generation. Many of you commented about coming into the store as children so many years ago. Time marches on in life and eventually our careers led us to retirement. We will miss Meaford but also are looking forward to relocating close to our children and grandchildren while we have our health and the little ones still want to spend time with Nanny and Papa. The very definition of bittersweet!
Again, Thank You Meaford for being part of our lives! We both feel extremely lucky to have had our time here with you.
Dave & Michelle Deighton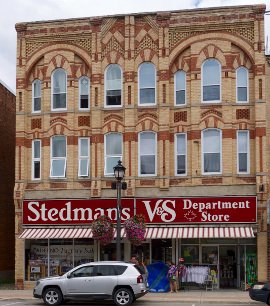 + 52
+ 2