Details

Published: Tuesday, 21 February 2017 09:58
Written by Staff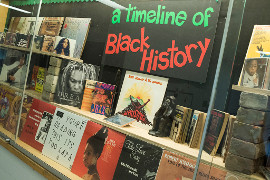 Georgian Bay Community School has been recognizing Black History Month by creating an interactive installation in the hallways of the school. The project consists of a timeline that spans from 2,000 BCE to the present day.
The timeline begins (at the beginning of February) as just a rough sketch of history with a few key elements marked across the span of time for context: ancient civilizations in Africa, the emergence of Colonialism, the Atlantic Slave Trade, the Underground Railroad, the American Civil Rights Movement.