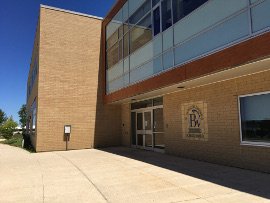 An opportunity awaits this week to celebrate the strength and value of local public education. Bluewater District School Board will be dedicating Education Week, which runs from May 6 – 10, to the many individuals whose passion and contributions support excellence within our system.
From the staff who deliver exceptional learning opportunities and programs, to the volunteers and committees who donate in immeasurable ways to the fabric of their school communities, it is through the efforts of many that safe, inclusive, and caring learning environments are cultivated. During Education Week, examples will be showcased on Bluewater District School Board's website at www.bwdsb.on.ca, and the board's Facebook and Twitter accounts.
Students, parents/guardians, staff, and community members can also get involved. Whether it is to share the success story of an individual or group in planning a school activity, or showcase a unique learning program that has positively impacted students, Bluewater District School Board invites the public during Education Week to post examples on social media using the hashtag, #EdWeekBWDSB.
"Education Week is an opportunity to recognize our many stakeholders in Bluewater District School Board for their invaluable contributions to strong and vibrant public education in our local rural communities of Bruce and Grey Counties," said Director of Education Alana Murray. "From the amazing skills, talents, and potential exhibited by our students, to the staff, families and other mentors who guide and support them, we are excited to celebrate and shine a light on their hard work and accomplishments."