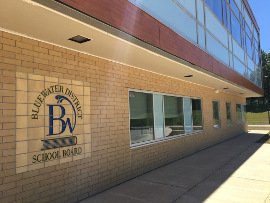 It is an opportunity to help set the future direction and priorities for our local public education system. Bluewater District School Board is seeking feedback from the public as part of a review by the Board of Trustees of the Multi-Year Strategic Plan.
An online survey has been launched with a series of questions that focus on assessing the relevance of the board's current strategic plan. Participants have an opportunity to share their comments and ideas on the vision and mission statements, each of the four strategic priority areas with their associated goals, and any additional potential areas that they feel would be important in setting the course for the future.
The survey runs from April 17 until May 13, 2019, and can be found on Bluewater District School Board's website at www.bwdsb.on.ca, the board's mobile app, and at the following link: http://ow.ly/Vdyd30okrHt
Print copies of the survey will be made available upon request by calling 519-363-2014, ext. 2014 or emailing communications@bwdsb.on.ca.
The feedback received from the survey will assist trustees during the next phase of the Multi-Year Strategic Plan review process.
"We look forward to reviewing our Bluewater District School Board Multi-Year Strategic Plan in consultation with our stakeholders to establish the vision, mission, and priorities that will guide our decisions over the next several years," says Bluewater District School Board Chair Jan Johnstone. "Whether you are a student, parent/guardian, staff or community member, we welcome your voice. Our strategic plan is our key point of reference that will set the tone for excellence, and ensure quality education for the students and families we serve in Bruce and Grey Counties."
As per legislated requirement, each school board must initiate a cyclical review of its strategic plan every three to five years. The plan is a visioning document that sets the direction for the board, with an emphasis on student achievement and well-being, and ensuring the effective stewardship of resources.