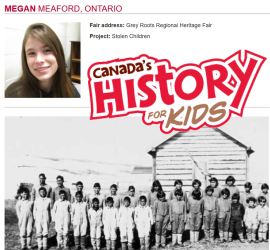 Meaford student Megan Acres has been chosen to compete as the Grey-Bruce representative in the Canada's History Young Citizens Competition, and she is hoping that support from her community will help push her to the podium.
Acres is among 32 students representing Ontario in the nation-wide contest between a total of 200 students.
Acres has logged approximately 100 hours of independent work into the research, process, and video editing for her project entitled 'Stolen Children', and her ultimate goal is to earn the chance to attend the Youth Summit in Ottawa.
While researching her project, she visited the Mohawk Institute (the last Residential School to close), interviewed survivors, and she attended a drumming circle at the M'Wikwedong Friendship Centre where she recorded audio for the project.
After the selection process for the competition, Acres produced a four minute video on her topic. All of the videos from across the province were submitted earlier this month, and they have been uploaded with student profiles and pictures to the website.
Friends, family, teachers and community members are encouraged to go online to view her video and to vote. One vote per email address is allowed.
15 students will be selected for the Youth Forum in Ottawa based on voting results alone. Another 15 students will be chosen by the judges based on the content and merit of the video entries.
To vote for Acre's project, visit kids.canadashistory.ca/Kids/YoungCitizens/Profiles/2017/MeganA.