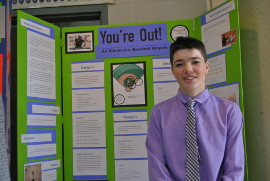 After a competitive and rigorous selection process, Elias Andersen, a Grade 11 student at Pretty River Academy, will represent Canada at INTEL ISEF, the International Science and Engineering Fair, May 14-19, in Los Angeles.
Elias developed an algorithm that uses sound from microphones to more accurately umpire baseball. His project earned a silver medal at the Canada-wide Science Fair last spring.
"Canada's top young scientists and engineers are truly world-class," says Reni Barlow, Managing Director of Youth Science Canada, the national charitable organization responsible for science fairs and the Team Canada-INTEL ISEF program. "Team Canada-INTEL ISEF members have won the US$75,000 top award at the event for the past two years, and last year's team of eight brought home a total of 14 awards - a remarkable achievement considering they were competing against 1,700 top students from over 75 countries."
Elias is a Canada-wide Science Fair veteran, having earned an invitation and medaled three times previously. He was also recognized last fall by the Collingwood Optimist Club earning the Youth Appreciation Award. Elias lives in the Municipality of Meaford.
Pretty River Academy is an independent Preschool through Grade 12 school that has operated in Collingwood, Ontario for 18 years.