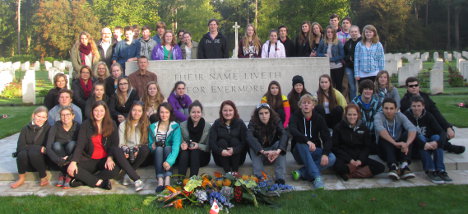 On October 9, GBSS students embarked on a journey through the Canadian battlefields of Europe. The ten-day tour enabled students to walk in the footsteps of Canadian soldiers in the First and Second World Wars.
Our tour group of 42 students, four teachers and three parents shared ten history-rich days in Amsterdam, Belgium and France. We travelled to Canadian battlefields, war cemeteries, museums, churches, monuments, and landmarks, and on every step of the journey students felt history come alive.
A bus and walking tour of every city on our stop allowed students to experience all of the sights and smells of life in a European country. Students travelled through the bookcase to the hidden chambers that housed Anne Frank and her family during the Second World War on Day One in Amsterdam. The events of the next nine days spanned three countries and both World Wars. Students stood where Canadian soldiers landed at Juno Beach and explored the trenches and tunnels of Vimy Ridge. They travelled to Dieppe, Normandy, and Ypres and stood beneath the Menin Gate in a last post ceremony.
Our tour of Paris included the Louvre, Eiffel Tower, Champs D'Elysee, Notre Dame Cathedral and the palace of Versailles.
The Tour Itinerary:
Day #1:
Arrive in Amsterdam. Visit the Anne Frank House and Jewish quarter.

Walking tour of Amsterdam.
Day #2:
Guided bus tour of Amsterdam and visit to Jewish Museum, Deportation Centre and Jewish Synagogue.

Visit to local clog and cheese maker and windmills
Day #3:
Travel to the Vimy region

Visit Passchendale

Visit Essex Farm

Visit the Bergen-Op-Zoom War Cemetery

Visit the In Flanders Fields Museum
Day #4
Visit the Vimy Memorial

Visit the tunnels and trenches

Visit Beaumont-Hamel Newfoundland Memorial

Attend the Last Post Ceremony at the Menin Gate Memorial
Day #5:
Take a guided tour of Somme

Travel to Normandy region via Dieppe
Day #6:
Visit Juno Beach

Visit the Bény-Sur-Mer Canadian War Cemetery

Enjoy free time on Normandy beaches
Day #7:
Travel to Paris

Take a walking tour of Paris

Latin Quarter

Visit Les Invalides

Visit the Louvre

Visit Notre Dame Cathedral
Day #8:
Take a guided tour of Paris

Place de la Concorde

Arc de Triomphe

Champs-Élysées

Eiffel Tower
Day #9:
Versailles
Visit Sacre Coeur Basilica de Montmartre

Explore the artisan market of Montmartre
For many of the students this was a once in a lifetime experience and it provided insight into the desperation of the war experience and the fight to achieve and maintain peace. Here's what a few of our students had to say:
"It was very powerful walking the beach at Juno. It is hard to believe that so many men were killed in action at the place where we walked. One message that the visitors' centre told us was "as you walk, they walk with you", reminding you that no matter where you are, these men who fought for your freedom are with us." Victoria McMurchy
"My favourite part of the trip was the Menin gate in Ypres. Finding my relative's name on the wall was a really special experience for me." Claire Dinsmore
"It is amazing to be in the exact same location as where an event in the war took place. You learn about it in class, and then you're there… it's very powerful." Abby Woodhouse