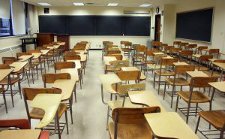 There are some encouraging results for Bluewater District School Board following the release of the Education Quality and Accountability Office (EQAO) 2013 – 2014 assessments of Reading, Writing and Mathematics for the primary (grades 1 – 3) and junior (grades 4 – 6) divisions.
Overall, Bluewater schools are seeing the continuation of an upward trend in Writing scores for both primary and junior students. Since 2008 – 2009, the Writing assessment results have increased by 9 percent for primary and 10 percent at the junior level.
Positive gains are also being made in the Reading assessments. Bluewater's primary division test results have slightly increased since 2012 – 2013 and remain consistent when looking at the past six years. The more significant jump is in the junior division, with a 5 percent increase in Reading compared to the previous year, and 8 percent overall since 2008 – 2009.
In Mathematics, the primary division is also seeing a slight increase over the previous year. In the junior division, a decrease in the results mirrors a declining trend in EQAO math scores across the province.
"We are encouraged by the latest EQAO results for Bluewater, especially in our Writing assessments.
Moving forward, we will continue to focus on junior level math and intermediate literacy as we strive to achieve and exceed the provincial average. As always, we view these scores from a broad perspective in the realization that it takes so much more than standardized test results when evaluating the overall effectiveness of a school," says Superintendent of Education Lori Wilder.