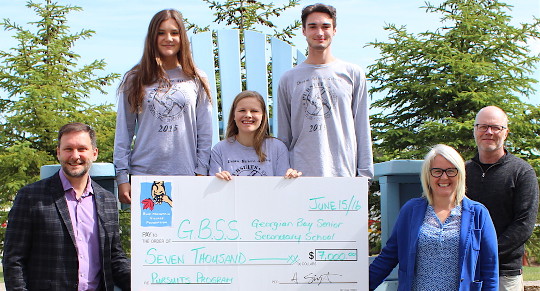 The Blue Mountain Village Foundation announced last week that Meaford's Georgian Bay Secondary School will be funded $7,000 for their Pursuits Program.
The Pursuits Program focuses on leadership skills through various activities and events. Pursuits students teach and assist in the classrooms of local schools while integrating what they've learned in Pursuits. They promote fitness, healthy nutrition, and active living in the outdoors. Richard Fletcher, teacher, along with students Somer Graham, Jane Nicol, and Aleck Campbell received the cheque from Andrew Seigwart, and Stacy Manning on June 15, at Sunset Grill in Blue Mountain Village.
"We are thrilled with the calibre of the successful applicants for funding various community based programs for youth," says Andrew Seigwart, President of the Foundation. "Pursuits is an ideal recipient given its focus on promoting leadership skills in our youth."
"With increasing pressure to achieve and succeed, the stress of keeping balance in life can be very challenging for today's youth. Pursuits delivers strategies to achieve, to reach beyond what youth think they are capable and understand the importance of maintaining balance in life while gaining confidence and leadership skills. The support from the Blue Mountain Village Foundation allows us to continue to offer this alternative education program in our public education system," said Mr. Fletcher.
The Blue Mountain Village Foundation is dedicated to enhancing the quality of life in our local communities through its financial support of registered charitable organizations whose activities provide benefit to the residents of our local communities, with an emphasis on children and family programs. In addition, the Foundation awards five Bob Comish Memorial Scholarships to four local high school students and a student from Georgian College, who have worked on the resort property. Information about filing applications for funding and bursaries can be obtained at the Foundation website at www.bluemountainvillage.ca/foundation/.