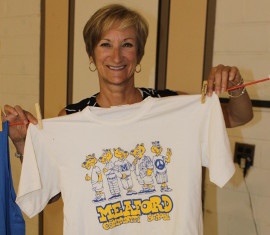 It was a day where nostalgia loomed large and old acquaintances became fresh again as the community gathered to bid adieu to Meaford Community School on June 4.
A committee with current and past staff members and students had put together an open house and informal reunion to say goodbye to the school that, under various names and formats, had become an institution in Meaford since the 1940s.
A steady stream of people was circulating through the school by 11:30 am, checking out the assortment of memorabilia on display.
The school is being shuttered as part of a restructuring plan by the Bluewater District School Board. Students will be split between St. Vincent-Euphrasia School and Georgian Bay Secondary School starting next September, and will remain so until the newly-announced consolidated school is constructed.
Unlike some other communities, such as Owen Sound, the consolidation plans in Meaford created far less angst.
Current MCS Principal Jill Nebb, one of the organizers of the open house, and former principal Denise Horvath, who was the chair of the organizing committee, said the community took a realistic approach to the process. In the end, the community was just glad to keep their students in Meaford, rather than having to bus them elsewhere, the women said.
That doesn't indicate any lack of connection or identity to MCS, they noted.
"Everybody born and raised in Meaford has gone through this at some point," said Nebb. "Either they came as a kindergarten student or when they were in Grade 5 or 6. There's a lot of history here, and it was important to keep all of the students here in one community. There's a piece of nostalgia here in this school, but there's also a great deal of excitement for the future."
The school was known by various names through the years, and operated under various formats. Off and on, the school functioned as a full public school, accepting students from kindergarten through Grade 6. At other times, students in the lower grades were sent to St. Vincent-Euphrasia school until Grade 5, as they were mostly bused students.
Horvath said "we decided to hold pretty much a whole-day open house to allow anyone who wanted to to come through and visit the school and visit with staff they might remember and former students. It's a real community event.
"Both Jill and I came from schools that had closed, and we had held something similar. We believed this is what people wanted, and we wanted to keep it simple. We knew they wanted to see the building, and we knew they really wanted to reconnect with other people."
Horvath started teaching at MCS in 1984, and was promoted to principal before leaving in 2007.
It's Nebb's second year as principal.
"Daily we see parents, grandparents and other family members looking at our lengthy hall with graduation pictures, and showing other family members," she said.
Donna Atkinson, a former principal as well, said she began with the school in 1974, and she retired as principal in 1999.
Atkinson said "it's always said to see a school close."
"There's always so much history, and it was such an integral part of the community. There's a lot of wonderful memories here, but it had to happen."
Judy Dunham, a former student, was also on hand to say farewell.
"I came here from Toronto in Grade 8," she recalled. "It was called Meaford Elementary back then. I had George Jefferson, who retired in the Owen Sound schools."
"I was 12, and coming from the big city to Meaford was culture shock. But I found the way to make it here was through sports. I joined the ball team, and played for 20 years, and also broomball. I had to get involved, and that's how I made friends. I found it very inclusive, and I'd recommend that for any kid coming out of the city."
"It's kind of sad to see it go, because I live on this street now. I have good memories of this school."