Details

Published: Monday, 31 May 2010 17:16
Written by By Stephen Vance, Editor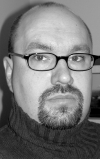 There are times when I sit in the Meaford council chamber that all I can do is bite my tongue and shake my head. It is either that or draw the conclusion that there must be some secret initiation process for councillors, during which special logic distorting microchips are implanted into the brains of the newly elected.
Last Tuesday (May 25) was a perfect example.
+ 0
+ 0