Details

Published: Friday, 11 February 2011 08:05
Written by By Stephen Vance, Editor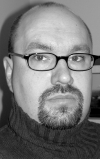 Something happened at Meaford Hall on Tuesday evening that doesn't happen often enough in our community. Members of council, municipal staff, the Chamber of Commerce, and the community itself gathered to celebrate a significant achievement.
On Thursday of last week the Municipality of Meaford was presented with an award from the Economic Developers Council of Ontario (EDCO). The award was in recognition of the fine work done by members of our municipality in the creation of the Dragons' Den Meaford event.