Details

Published: Thursday, 07 October 2010 08:06
Written by By Stephen Vance, Editor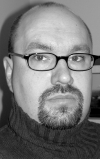 A couple of years ago there was a nasty anonymous blog making waves in Meaford. Much like the current blog that has surfaced during this election campaign, that blog had plenty of unkind, unsubstantiated things to say about members of Meaford council and of municipal staff.
The Sun Times ran a big story about it. They had contacted me because I had a blog that wasn't anonymous, and they wanted to come to my home, interview me, and take a photo for their story.
+ 0
+ 0