Details

Published: Sunday, 15 August 2010 14:48
Written by By Stephen Vance, Editor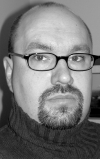 I had hoped that by this stage of the summer there would be plenty to write about - and debate about - with regard to the upcoming municipal election. So far though, the only thing that can be said about the municipal election is that there is nothing to say.
On June 28th I asked the question "Where are the candidates?" and now with less than a month remaining before the nomination deadline, Meaford has just four declared candidates for the seven seats around the council horseshoe and the question remains the same.
+ 0
+ 0