Details

Published: Friday, 22 October 2010 09:42
Written by By Stephen Vance, Editor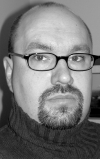 On Tuesday morning Meaford residents will wake up to a new council that will be installed in early December.
That new seven member council will feature at least four new members, and possibly five individuals will be taking a seat at the council table for the first time.
If you haven't voted yet, there is still time to deliver your ballot to the municipal office on Trowbridge Street. Ballots will be accepted at the municipal office until 8 pm on Monday October 25.
+ 0
+ 0