Details

Published: Saturday, 21 May 2011 08:48
Written by By Stephen Vance, Editor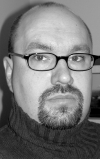 I've been so conflicted over the last week not knowing whether I should be preparing for the first long weekend of the warm season or for the end of the world. Not that my packing list would have been much different for either.
Even though my fate according to those that believe such things would have been less than delightful should the rapture have occurred, I wasn't worried for a single moment. I mean, if you can endure a Meaford council meeting, you can certainly make it through the end-times relatively unscathed.
+ 0
+ 0