Details

Published: Thursday, 18 November 2010 08:56
Written by By Stephen Vance, Editor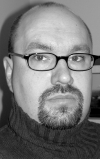 Dear Santa,
I know it is early but since you will be in Meaford on Saturday to kick off the annual Christmas Window Unveiling event, I thought I would prepare a wish list for you so that you could take it with you when you leave.
It was really hard to narrow down my list this year. I don't want to seem greedy, and really I don't want much this year, but some of what I am hoping to get will take a lot of work, so you might find the extra time helpful.
Anyway, here is my wish list: