Details

Published: Wednesday, 29 June 2011 08:47
Written by By Stephen Vance, Editor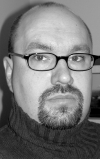 As frustrating and unnecessary as it may seem, we really do have to question everything we see and hear. It shouldn't have to be that way, but it is.
When I was much younger I accepted that most people are honest, and I didn't spend a whole lot of time questioning information that was presented to me. As time has gone on however, I have become more and more skeptical of everything I am being told in media, by our politicians, by corporations, and even by friends and family.
+ 1
+ 0