Details

Published: Saturday, 19 February 2011 10:49
Written by By Stephen Vance, Editor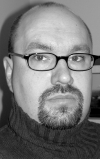 Ah Mother Nature. She is unpredictably moody, seems to have difficulty making up her mind, and can at times be more of a tease than... well... let's just leave it at that.
This past week in Meaford as the temperatures began to increase, and the snow slowly melted away, I found myself waking each morning excited about the gradual disappearance of these long winter months.
Yes, it is true, I am not a winter person. And like the 67 percent of respondents to the recent poll on The Independent, I am itching for spring to arrive.
+ 0
+ 0