Details

Published: Friday, 09 July 2010 07:57
Written by By Stephen Vance, Editor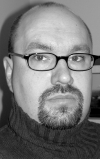 Don and Kathy Evanson want to start up a hot dog vending cart business in downtown Meaford. That fact shouldn't really be a news story, but it is going to be.
Why?
Well, we live in a society that at times seems hell-bent on drowning itself in rules and regulations most often in an effort to protect what we feel is ours, or to lock others out.
+ 0
+ 0