Details

Published: Friday, 27 May 2011 08:52
Written by By Stephen Vance, Editor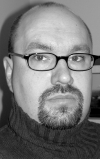 I love the Meaford Museum. For a community of our size to have such a fantastic facility on our beautiful waterfront for residents and tourists to visit is a wonderful thing. I take my children to the museum a few times each year and they are always asking to go back.
Museums are important to any community. They are the guardians of our past. They help showcase our roots and remind us of what life and society has been like as we have moved through history.
+ 0
+ 0