Details

Published: Wednesday, 16 November 2011 10:01
Written by By Stephen Vance, Editor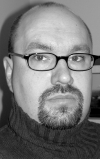 Meaford Mayor Francis Richardson called the shouting match between Councillor Deborah Young and a few upset residents regrettable, but it was much more than that.
The incident was both painful and disturbing to witness, but what was even more disturbing is that it should never have happened.
There is no doubt that many of the residents who attended the Monday afternoon council meeting did so out of genuine concern for the health and safety of their families, the value of their properties, and the well-being of the community.
+ 0
+ 0