Details

Published: Thursday, 29 December 2011 10:53
Written by By Stephen Vance, Editor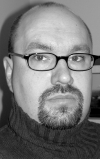 The controversy and public angst over a proposed waste to energy facility in the Municipality of Meaford need never have happened at all, and though he might not know it, my eight year old son can tell you why.
The other day I watched with fatherly pride as my son set about creating a very intricate battle scene with his large collection of knights, wizards and dragons. With bamboo logs and dozens of rocks, he built protective walls around a multi-level structure at the top of which a king was housed inside a tent that also served as a command centre of sorts.
+ 1
+ 0