Details

Published: Friday, 10 February 2012 09:36
Written by By Stephen Vance, Editor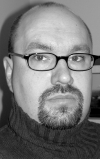 Living in the somewhat insulated environ of a rural Ontario town, it can be easy to forget that many of our problems – or perceived problems – are relatively minor when compared to those experienced by residents of larger communities.
Not that the issues faced by rural residents aren't important, but many of them aren't unique to us either. Decaying roads and bridges, stresses on municipal services, ever rising tax bills; these are all issues that are faced by most every community.
+ 0
+ 0