Details

Published: Friday, 10 June 2011 08:53
Written by By Stephen Vance, Editor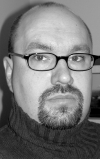 Last week our Member of Provincial Parliament, Bill Murdoch, bid farewell to Queen's Park after having served in the legislature for nearly 21 years.
It is not often that an MPP from a rural riding like ours is able to generate the kind of profile that Murdoch has.
Some call him a maverick, others call him a rabble-rouser, some have called him things that I can't print here.
+ 0
+ 0