Details

Published: Tuesday, 29 July 2014 09:36
Written by Staff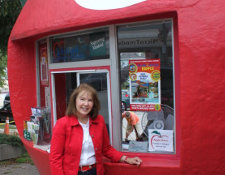 The Big Apple, located in the heart of Meaford's downtown shopping area, has been the subject of much speculation over the past several months.
Council voted on December 9, 2013, to move Welcome Centre services in-house, no longer to be the responsibility of the Chamber of Commerce. Since 1974, the Chamber-owned Big Apple structure has been a highly visible icon in Meaford. Its future became a concern for many in the community when the Chamber announced that it would have to sell the Apple.