Details

Published: Friday, 01 April 2016 08:42
Written by Susanne Wussow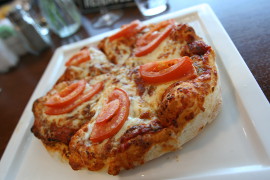 It's Saturday evening, and we're in the mood for pizza.
Earl and I are kind of fussy about pizza, and have experimented with doughs and toppings – did I mention that Earl built us a wood-fired pizza oven in the backyard about eight years ago? The problem with a pizza oven is that it takes quite a while to come up to a high enough temperature, especially in the winter, and weather is a factor as well – standing out in the snow or freezing rain is no fun. So generally we are pizza-challenged for a good six months of the year. It's the end of March, and we feel the need – the need for pizza.