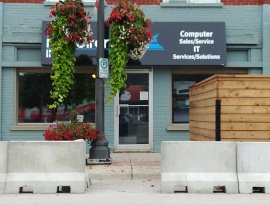 Not all business owners are pleased with the municipality's efforts to promote Meaford's downtown in Stage 2 and now in Stage 3 of the province's COVID-19 economic reopening strategy.
Early in July, concrete barricades were installed on Sykes Street allowing three restaurants to erect partitions and create outdoor sitting areas. The street-side seating allowed restaurants to expand their services from takeout only to patio service.
All at the expense of neighbouring businesses, according to Harbour MicroTrends owner Marty Tengelis.
"Don't get me wrong, I love the idea of promoting business even if it means taking up half of my frontage," he said.
Tengelis feels that there have been no amends made to him for his losses. He has lost street visibility because of what he calls a "fortress" of a structure in front of his business, and reduced parking. To make matters worse, he feels slighted by a recent Bayshore Broadcasting advertising blitz on 106.5 promoting "the splendors of Meaford. I was shocked, however, that my business wasn't included in this free advertising," he said.
"I was left thinking it was because either number one, the municipality doesn't want to deal with my business since I have been so vocal about my dissatisfaction in finding a wooden fortress in front of my store; number two, the sandwich board being offered, but yet to receive, was an adequate resolution; or number three, service businesses like mine aren't considered important," Tengelis wrote in an email on August 2 to municipal officials, the Economic Recovery Task Force, the Meaford Chamber of Commerce, and The Meaford Independent.
"Regardless, I believe an advertising opportunity was missed here and I am extremely disappointed that my business wasn't considered," said Tengelis. "Agreeably, computer businesses don't typically draw tourists to a town; however, they are important in maintaining people in the area. Harbour MicroTrends is a convenient (when there is parking in front) and friendly experience for many citizens purchasing or needing repairs to their computers, ink for their printers, and assistance setting up technology in their homes.
"The optics of the decision not to include my business in this advertising campaign is that Harbour MicroTrends is not important to the commerce of Meaford. Add that to the municipality's decisions allowing inaccessibility and poor visibility to my business and I am left feeling that my interests are unimportant, sacrificial, and insignificant."
Spokesperson for the task force, Janet Sperling, replied saying, "The radio advertising you heard is a Grey County initiative where each week a different community within the county is highlighted. Meaford was their focus for this week. The sandwich board and banner that we collaborated on has been ordered. Once both arrive you will get them to support with promotion of your business."
Meanwhile, Tengelis is not hopeful that his situation will improve. He is doubtful that the patio structures will be torn down, built smaller, or moved out of his way, anytime now till November when the barricades will be removed for the winter months. "I am feeling sacrificial and insignificant," he said.
Photo: Harbour Microtrends owner Marty Tengelis is not pleased with barricades erected on Sykes Street to accommodate restaurant patio service. Photo: Stephen Vance