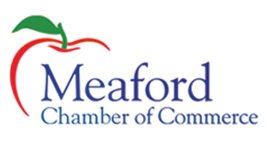 As the heat and humidity of what I'll call 'the COVID-19 Summer of 2020' continues to have us enjoy our own proximity to the most refreshing body of water in the region, the Meaford Chamber of Commerce has been hard at work helping local business make a lot of positive and creative 'lemonade' these past weeks.
The timing and even the current conditions have been just right to forward the latest downtown initiative; the 'Patiofest', which has seen several downtown restaurants expanding retail spaces for great outdoor service and atmosphere during the summer. Tilly's By the Bay, The Red Door, Leeky Canoe, Sail Restaurant, Gio & Fran's Italian Eatery, the Kitchen, McGinty's Café, Dairy Queen, To The Moon Bakery & Café, Meaford Social, Many Hands of Meaford, and even Ted's Range Road Diner have all embraced the spirit of outdoor dining and set up custom patios and tables to serve and even thrive this summer. Hours and specials are available through our regular Chamber Chats and Facebook Posts.
Doing something special with your business this summer during your re-emergence? Let us know.
We're also delighted to announce that our world-famous Meaford Apple is open and ready to shine, providing information, activities, ideas, and options for visitors, and providing welcoming, happy faces as visitors make their way safely to our bayside paradise! Pop by and say hi to our Summer Apple tourism ambassadors Tina, Tristin, and Grace in your 'core' travels downtown. The Apple takes in thousands of visitors each summer. It's great local tourism! If you have any updated information on your business for the summer, please take it down to the Apple.
Find our Chamber Facebook page for Apple hours of operation and more info.
Applications are still being accepted for our eCommerce Support package, helping businesses to grow their online presence through our resources. Find us through the Chamber Chat eBlasts, our Facebook Page, or at meafordchamber.ca.
Make this year the year you pledge to SLAY A DRAGON! Meaford Dragons 2020 is looking for entrepreneur 'knights' to boldly go where many successful young business ideas have gone before! Applications and support on the Meaford Dragons Facebook page.
Find our Meaford Chamber YouTube page for our virtual presentations of the 2019 Community Awards. Keeping socially distant, we filmed the presentation and receiving of this year's awards, with only two left to complete. Check out our videos and celebrate local excellence in Business.
The Chamber continues to advocate and bolster good business as it grows and regrows in the Municipality of Meaford. Challenges will always play themselves into the ongoing relationships built into business and growth, but the Chamber is resolute in its mandate to spark and foster the positivity of Community and will echo the spirit of good things happening here. If you are a business focused on 'rising above', then find your Meaford Chamber at the ready to join in your pursuits of excellence. The Chamber Executive Team, led by our Chamber Manager Kim Ware will work tirelessly and would do so on your behalf, using many marketing and online tools at her disposal. Through our website, our Chamber Chat eBlasts, and our Chamber Facebook page, we'll get your word out and tell the municipality and visitors alike.