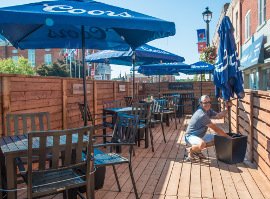 The Leeky Canoe on Sykes Street is the latest Meaford restaurant to create patio space for its customers during Stage 2 of the province's reopening program. Owners Sean and Michelle Crooks received invited customers to a soft opening of their newly-built patio in front of the restaurant, on Sunday, June 28. The patio officially opens on July 1.
The patio was a case of 'do or die', said Crooks. "We opened the restaurant three weeks after lock-down for takeout orders. But people are now tired of eating out of boxes. They want to be served. When restaurant patios opened a few weeks ago, takeout orders started to wain."
Many local restaurants, cafés, and bakeries are able to create outdoor seating on their premises while other restaurants are boxed in and do not have safe spaces to create patios.
Last week, the municipality installed concrete barriers to help create a space where restaurants on Sykes Street between Nelson and Collingwood Streets could create patios.
The barriers will be in place until October, at which time they will be removed for the winter, according to Meaford Manager of Strategic Initiatives Janet Sperling. "Our restaurants have been working hard to make it through the last few months with takeout and curbside pickup," she stated in a June 23 media release. "With these patios they can get back to serving tables safely as we work towards economic recovery.
Businesses partnered with the municipal Economic Recovery Task Force to create restaurant patios on Sykes Street and other locations. The task force that includes representation from the Chamber of Commerce and BIA.
"Kudos to the municipality for getting this happening," said Crooks. "I hope the town feels good about its decision and commits to doing it each year."
Other Sykes Street restaurants also have patio plans in the worksb and they hope to be operating in the near future.
Photo: Leeky Canoe co-owner Sean Crooks applied the finishing touches to a restaurant patio in front of his business on Sykes Street in time for the official opening on July 1. Seating is limited and reservations are needed.