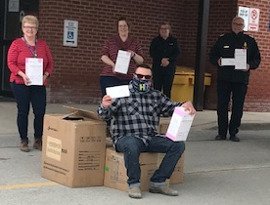 Meaford-based business 365 Sports has made a large donation of personal protective equipment (PPE) to our local hospital.
Jesse Fulton of 365 Sports has been working tirelessly over the past several weeks to secure 2,000 N95 masks and 4,000 surgical masks through his business connections.
The donation of the masks, valued at roughly $12,000, was made on Friday, April 24.
"I donated them to the Meaford Hospital, and they can distribute them as they see fit," Fulton told The Independent.
While 365 Sports is known for their large outdoor events, Fulton told The Independent that the company has many areas of focus including branding and product procurement.
"We have a procurement and logistics division in 365 Sports, and we supply a lot of branding and shipping solutions and supplies," Fulton explained. "We're not just events, we do a ton of branding for Canadian Tire, Sport Check, we do all of the branding for Good Life Fitness, a lot of people don't know that."
Fulton said that his company has been working with suppliers and manufacturers around the globe for more than a decade, and he used those contacts to source protective equipment.
"So when the event season imploded, and we had to postpone our entire season, we had to figure out how to pivot to essentially keep our staff on board and to keep our lights on," Fulton explained. "With having networks and relationships and a team in place with ten years' experience working with those networks, we were able to secure PPE far quicker than others."
During the pandemic, 365 Sports has been sourcing and supplying PPE for customers in order to get through this tough economic time. Fulton takes a community approach, recognizing that we all benefit by getting through this crisis quickly and safely.
"The faster we get through this thing, the faster we can get back to our events," Fulton said, adding that his company has been selling PPE in order to pay the bills, and "anything we have left over we are donating."
Fulton also noted that his company has a history of helping out where they can.
"Our company is focused on philanthropy – we have donated $1.6 million to charity. We want to take care of everybody, but we definitely want to take care of our own community," Fulton added.