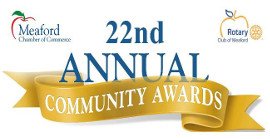 The 22nd Annual Meaford Chamber of Commerce Community Awards event was cancelled to comply with COVID-19 regulations, but that didn't keep 0rganizers from celebrating the community.
"This year we took in over 81 nominations recognizing people, groups, and businesses across eight award categories. The response was overwhelming, reminding us that local businesses are still very important to Meaford," said the Chamber.
The 2020 Award Winners are:
The Farmer of the Year Award was given to someone who exhibited the following characteristics: leadership, volunteerism, youth participation, community service and special achievements. It is with pleasure that Earth Power Tractors and Equipment and The Meaford Chamber of Commerce present the award to The Reid Family.
The Reid family has farmed in Ontario for over 150 years, including 100 years at the current home farm in the Municipality of Meaford. They currently raise sheep and crops and are active members of various agricultural committees and boards. They are involved in the Owen Sound Agricultural Society, 4-H, Chatsworth Agricultural Society, and the Sydenham School fall fair -- to name just a few. They exemplify leadership, volunteerism, youth participation, and community involvement.
The Most Improved Business Award is presented to an existing business that has significantly expanded and/or improved or enhanced their business premises, making the community more attractive. It is with pleasure that Broker Link and the Meaford Chamber of Commerce present the Most Improved Business Award to Canadian Pet Connection.
Lorne, Brandon and Angela Forder of the Canadian Pet Connection have grown their business and made an effort to support and mentor other growing businesses. Offering pet health and nutrition advice, a broad range of products, and service for Meaford's pet population, they have created a welcoming space for their two-legged and four-legged customers
The Tourism Award is presented to a business with a commitment to local tourism through a welcoming attitude, awareness, and promotion of local attractions.
Tourism is a vital part of life in Meaford, and this year's winner has created a retail space that welcomes locals and tourists alike. They provide tourists with reasons to explore the community of Meaford through brochure racks and by passing on their local knowledge. By participating in events like the Scarecrow Invasion, they give tourists their first look at our municipality.
Bayview Escarpment Fine Furniture and the Meaford Chamber of Commerce are pleased to present the Tourism Award to Grandma Lambe's.
The Customer Service Award is presented to a business that consistently goes out of its way to provide superior service to its customers. This particular category had the most nominations, which is wonderful to hear, knowing our business community is putting their customers first. It is with pleasure that the Meaford Chamber of Commerce and Knights' Home Building Centre present The Customer Service Award to Simply Unique Flowers & Gifts.
You can't walk past Simply Unique without going in to be greeted by Nancy, her staff, and her dog Mika. They provide outstanding customer service for those just passing through Meaford or those who have been long-standing customers. Nancy goes out of her way to help everyone, from providing flowers to the nursing home, to making your shopping experience one to remember Meaford by.
The Agribusiness Award is presented to an agribusiness that has invested in sustainable farming practices and has successfully developed innovative products, processes, and marketing channels. The Meaford Chamber of Commerce and Bruce Street Technologies Limited proudly present the Agribusiness Award to Higginson Farms.
Higginson Farms produce consistently superior beef and poultry with the goal of preserving heritage breeds using sustainable farming practices. Great folks with excellent products!
The Special Merit Award is presented to a volunteer organization or service club for exceptional effort over the past year that has enhanced the quality of life within our community. It is with pleasure that the Municipality of Meaford and the Meaford Chamber of Commerce present the Special Merit Award to the Meaford Culture Foundation.
This volunteer Board of Directors has worked tirelessly to support and raise awareness for arts and culture throughout the Municipality. They do this by awarding grants and bursaries to area youth, creating and executing the Meaford International Film Festival, and investing capital to improve Meaford Hall. This organization has over 80 volunteers and has funded 17 events in 2019 benefiting the whole community.
The Peter Francis Memorial Award is presented to an individual who has demonstrated exemplary volunteer leadership over many years and who has made a significant contribution to community development in the Municipality of Meaford. This individual must exhibit strong leadership through example. This is a lifetime achievement award. It was with pleasure that the Meaford Chamber of Commerce presents the Peter Francis Memorial Award to Sheila Carmichael.
Sheila is the person you see all over town, she is the one you go to when you need any historical information about Meaford, and if you need a volunteer she is there to give her support. You see her all over town working on the flower beds, picking up garbage, or delivering flyers for one of the many organizations she volunteers with. She is one of the busiest people in our community and is always willing to help.
The Business Owner of the Year award is presented to a Business Owner who has made an outstanding contribution to the Municipality of Meaford. This person/persons demonstrates: leadership within a business, dedication to the betterment of the whole community, good citizenship, care for the environment, and sound employee relations. The Meaford Chamber of Commerce and The Meaford BIA are proud to present this award to Amici Pizzeria & Family Restaurant.
Daryl and his team have created a thriving business that not only looks after their employees, but keeps community needs in mind. Dedicated to being environmentally responsible, volunteering to support community initiatives, and supporting their employees by understanding family comes first, they have made themselves an important part of our Municipality.
We want to congratulate all of our nominees; you are what make our Municipality a great place to live. Thank you to those who took the time to submit a nomination as this is how we keep our community growing.