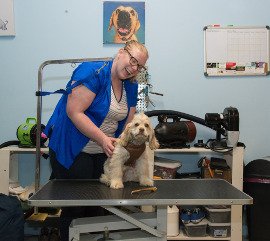 There is an energy behind the scenes at Pampered Pet Spa in Meaford that can best be explained in terms of the owners' passion to succeed as businesswomen and their commitment to not only their customers, but also to each other.
Bekah Chapman and Tanya Russell own and operate Pampered Pet Spa, a full-service grooming spa for dogs and cats, located in the Canadian Pet Connection store at 278 Cook St.
They have built careers as groomers with past work experience in the pet retail trade, two years of on-the-job training for Chapman, and every continuing education opportunity available to them. Two years ago, when both women felt themselves at a crossroads, they started formulating what was supposed to be a five-year plan to save money, find a space, and open their own pet grooming business.
"It came down to asking ourselves: Are we following our hearts," said Chapman. "Are we following the right path?"
That was in November 2018. Six months later, they decided it was now or never. In May 2019, Chapman left her retail job. In June, Russell joined her as a full-time partner in Pampered Pet Spa.
"The pet grooming industry is as of yet unregulated," Chapman said. "The upside is pet grooming is a trade where groomers can make a career that is exactly what they want. I am of a generation that thought that, if we got a university degree, we would have it made. That was not the case. Pet grooming, on the other hand, is a skilled trade that I can make a living at and raise my kids."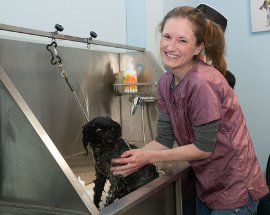 The two women complement each other. Chapman encouraged Russell to certify as a pet groomer, has helped her to develop her skills, and has encouraged her to develop her particular talent as a pet stylist. Both are committed to continuing education. Both block off time from work to complete whatever training opportunities are open to them. Russell is honorary 'auntie' to Chapman's three children, helping out whenever parenting demands conflict with work.
Businesspeople supporting each other is a trait that Meaford Chamber of Commerce manager Kim Ware describes as a "unique quality among the business people in the Meaford municipality… not only the female ones, but our male partners as well. There have been many times in the past year where I have seen new businesses supported by their competitors who commit time and effort to help them successfully launch," she said.
Ware praises the strength and commitment businesswoman have to become successful, and as a result, making Meaford a successful community. "Strong confident women are an important part of what makes Meaford great. Look at our mayor and deputy mayor, walk into our shops, take a close look at our volunteer groups - these women are one of the reasons we love it here."