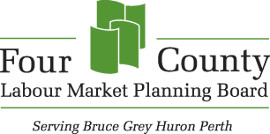 A four year review of EmployerOne, released September 2018, showed that employers continue to deal with a chronic shortage of workers and hard-to-fill positions across almost all sectors.
Information from the last four years has been used to secure major funding for projects that help grow the local workforce. These include Manufacturing and Hospitality & Tourism employment readiness training programs. There are also local economic development and educational initiatives throughout the region.
The fifth annual EmployerOne Survey is open to employers in Bruce, Grey, Huron and Perth counties on January 1, 2019. Employers have until January 31 to complete this anonymous and confidential survey which gives us a comprehensive understanding of your local labour market challenges. Most employers can complete the survey in less than 10 minutes, and these data continuously inform community planning and initiatives in our region.
For the first time, the Planning Board recently conducted a survey of workers and job seekers in our region. This survey addressed key questions that have emerged from EmployerOne data, such as why employees are quitting jobs and what they value most in the workplace. Results are available on our website: www.planningboard.ca/reports/employee-survey/
Employers can complete the EmployerOne survey between January 1 and January 31, 2019 by visiting https://www.surveymonkey.com/r/FCLMPB2019. For further information on the survey please call the Planning Board at 519-881-2725.