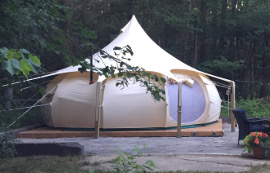 All are invited for an opportunity to shop and tour Naomi Assenheim's beautiful jewellery studio, located just outside of the town of Meaford on Friday, September 28 from 12-6 p.m., Saturday, September 29 from 12-5 p.m. and Sunday, September 30 from 12-4 p.m.
Tours of the Woodland Glamping Retreat featuring the unique Lotus Belle Tent will also take place alongside Opal Wing's 3rd Annual Fall Open House on Sunday, September 30.
Naomi and her family recently moved to the Georgian Bay region in search of a peaceful, simpler life, in sync with nature.
Today Opal Wing Jewellery pieces are handcrafted in the Woodland Studio, a rustic studio in the woods. Many of her buds and branches are harvested locally along the Big Head River and on the Trout Hollow Trail. Naomi treasures the escarpment as a really important place in which the biodiversity as well as flora and fauna are continuously incorporated into her work as well as a rare collection of gems and crystals. New to the studio are oracle cards, books promoting spiritual health and wellness, as well as natural smudges and crystals. For the first time, the Woodland Studio will be open every Friday from 12-6 p.m. for holiday shopping from October through to Christmas.
The Woodland Retreat is a new glamping adventure aimed at promoting nature connection and camping without compromising the comforts of everyday life. The Woodland Retreat features a queen size bed, hot outdoor shower, composting toilet, solar lights, and a fully functioning outdoor kitchen.
"This has been a dream for both of us for over a decade. When we started our house search in Meaford, this property was the ideal place to live our dream lifestyle while sharing the natural beauty of the area and contributing to the local economy in a sustainable way," she said. Naomi and her family have never looked back.
Both the Woodland Studio and the Woodland Retreat are located at 245606 22nd Sideroad just north of Highway 26. The Woodland Retreat can be booked online at airbnb.ca and Opal Wing Jewellery can be found at www.opalwing.com as well as on Etsy.