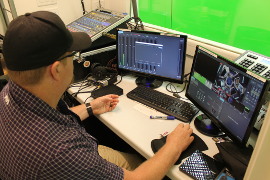 CTRE Productions partners Chris Taylor and Russ Ellis took home the big prizes at Meaford's 2016 Dragons' Den (now known as Meaford Dragons) with their unique approach to video production and streaming services.
"The experience was very, very positive," said Russ Ellis. "It gave us a bit of bragging rights and a platform to go forward, and it kind of allowed people to go 'wait a minute, if they won there must be something about them', so that was very positive."
Since then, Russ Ellis has bought out Chris Taylor and formed a new partnership. CTRE is now a division of Ellis Gray Consulting, "a one stop shop specializing in assisting investors, businesses, and organizations enabling them to make informed decisions." The video division, managed by Ellis, goes well beyond that, with cutting edge video services that take on difficult projects using a combination of innovative approaches and technologies.
"We have specialized in 'awkward' and are very lucky to have built a good team of people now who we can use for different projects," said Ellis. "We're using some of the latest technologies, working with different companies around the world and they're keen to work with us to solve our unique problems."
At the core of the technologies which make their services so unique is "the capability to access any smart device in the world so we can do any event anywhere," he said. "We've created a niche for ourselves specializing in outdoor events, normally where there's no internet and there's no power."
They have recently expanded into large-scale events that currently include two international sporting events, five national sporting events and one eastern finals of a variety of different sports, as well as video conferences.
The mobile capabilities of their equipment have also allowed them to participate in an 8-part documentary series called A Void In Ice, which is in the process of following two intrepid adventurers currently navigating the Northwest Passage in a 39-foot sailboat, hoping to "collect data along the way that will help the scientific community in better understanding how climate change is affecting the Arctic, and its inhabitants. They hope to record sea mammals in their natural environment, and share their beautiful sounds with the world. They hope to reach traditional throat singers, photograph wild life, and share the abundance of beauty of this fragile far-off land, and unique culture," all with the aid of CTRE technologies.
Ellis says of their boat, the Toboggan, "We have put underwater microphones on it, it's got multiple cameras on it and the whole story was actually picked up by Virgin Radio as well."
Another aspect of their service can be found in the back of their Owen Sound offices where there's a small studio in which the walls are painted green. A teleprompter and cameras that can pan, tilt, and zoom by remote control capture the interview. Later they add a virtual environment utilizing software that allows them to mix real images with computer-generated backgrounds.
"The whole idea of this place," said Ellis, "is that it takes away any of the bottlenecks. People can walk straight in and do the video. We can stage it as well. We can build literally anything that we wish. And then we can record as required."
He adds that their business model is innovative as well.
"Our business model ensures that we are cost neutral or revenue-generating for our clients. So when people come to us in advance, say three months minimum, we're normally able to help them mitigate all of our costs and actually make money from our service. We're putting our time into our client so they can make money off us and that's our advertising. On a conference they can maybe make a thousand a day off us.
"We sit down with our clients and we say 'What is your end objective?' Once we know their end objectives we work backwards to design the day to suit that. And then we look at how it can be broken down for a specific sponsorship format or what have you. We have a wide range of different revenue possibilities for the client but it depends what business model they have themselves."
Participation in Dragons' Den was helpful in creating this business model, said Ellis. "Whenever you have to write a business plan or challenge yourself on why you're doing it, it's positive."
His preparation for the competition reflects his proactive approach and provides a helpful tip for this year's competitors.
"The main thing that I looked at when creating the plan was I did a lot of research into the panelists. I built up a profile of each panelist and then I looked at which questions, if I was them, they would ask, and I made sure that all of those questions had been answered in the business plan.
"The test was then on the stage that first question, because if the first question wasn't a hard question we'd already answered everything. And the first question was not a hard question."
The stage also allowed them to access valuable local talent. On stage they said that they would like to reach out to local retirees who felt they had something to offer and they received a response from Bill Loucks, a two-time Gemini Award-winning cameraman with over 38 years of expertise in the coverage and delivery of international and national news. "He is now acting as a consultant for us," said Ellis.
In addition to being a very entertaining show, Dragons' Den, in its decade of award-winning productions, has been instrumental in launching some of the most innovative companies in the world. There's no telling what inspiring surprises lie in store when it returns on November 7 to Meaford Hall, celebrating its 10th anniversary.