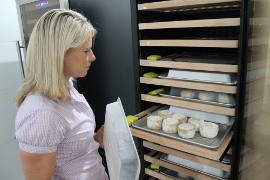 This year marks the tenth anniversary of Meaford's Dragons' Den (renamed this year 'Meaford Dragons'), during which it has aided local startup businesses with almost a quarter of a million dollars in funding along with a stage on which to launch their enterprise. Leading up to the tenth anniversary show, The Meaford Independent looks at some past winners to see where they are now.
Georgian Bay Fauxmagerie has not yet completed a full year of business since winning Meaford's Dragons' Den 2018, the popular local show presented at Meaford Hall by the Meaford Chamber of Commerce.
Since then the company has enlarged its premises, grown to a staff of six working full time to keep up with demand, and has plans to build a larger plant in Meaford this fall, followed by a facility in the southern United States to serve the U.S. market.
In part, the instant success of the company can be attributed to the dynamism of its visionary founder and manager Marie-Catherine Marsot, in part to her young and devoted staff, and in part to the kick-start from the Dragons (amounting to $10,865 in prizes). But the main reason people around the world are clamouring for her product is that something like this has never been available before.
The cheese of the Georgian Bay Fauxmagerie was invented right here in Meaford.
"I knew that day when I made it that this is a revolution in alternative cheese-making in Canada and in the world," Marie-Catherine said. "So we became right away the only one in the world, and we still are, to make the dairy-free cheese this way."
As an instructor at a chef school teaching students to cook for plant-based diets, she had noted that the most common complaint from her students about a dairy-free diet was that they couldn't eat cheese.
"There was not a good alternative," she said. "The alternative that was in the store was not very good. So I started looking at it and I saw, that's right, it's not very good and it doesn't even look like a cheese. So I said, 'I know how to make cheese'."
Not everybody knows how to make cheese, but Marie-Catherine Marsot grew up in a house "where it was normal to make your own cheese and make your own bread".
"My dad makes his own cheese. He makes everything from scratch: bread, cheese, he grows his own vegetables. So I grew up with a fridge full cheese made with bacteria, the real bacterial culture that creates the cheese. If you want a goat cheese it's a certain type of bacteria, if you want a blue cheese it's a different type of bacteria that you use to give the taste."
At the Fauxmagerie, cashews are crushed and creamed to replace the milk. The idea of creating non-dairy cheese from cashews is not new but until now the final product has been a faux cream cheese, with flavours added to simulate real cheeses.
"My goal was to create a cheese that, as much as possible, looks and feels and tastes like the real thing," Marie-Catherine said. "So that people who are on a plant-based diet or are lactose intolerant, they can sit down now, they can have a wine and cheese party with a cheese board that looks like a real one so they are not left out any more."
She asked her father to send her some of his bacteria, which was imported from France. He agreed to send it but didn't believe it would work the way she hoped.
"It's not going to work; it's not milk," he told her.
"I said, 'Doesn't matter, I'm going to try' and then the cheese was created."
Having recently moved to an old farmhouse on the 3rd line in Meaford, she renovated a drive shed to experiment with her cheese.
"I live on the 3rd Line, countryside," she says, "Beautiful place. I transformed a drive shed that we had. It was supposed to be a dining room but then we changed the plan and started a cheeserie there, and it was perfect because of the stone. My house, all the base is stone and brick and it was after winning the Dragons' Den in November, so the humidity of that was like a cave. It's an old house, right, so it's perfect. So the cheese grew the Camembert rind exactly the same as with dairy."
As the cheese was becoming a reality her students lined up as her first customers. Then her chiropractor here in Meaford suggested that she enter the Dragons' Den.
"She said, 'Why don't you go?', so I submitted my business plan, submitted everything that needed to be done and then won! At that point I'm like, 'OK, we need to start this. We need to be in town and really get serious about it. No more just doing it on the side for fun.'
"Right away I started researching an area where I could make my cheese. For the time being I was still in my farmhouse, in that little mini-kitchen that I created to make the cheese, until February when we moved here."
After the Dragons' Den win the community jumped in to help her find a location on Stewart St., next door to Quench Buggy, another former Dragons' Den winner. She assembled a local staff of young employees excited to be on the cutting edge of alternative cheese.
"I won the Dragons' Den at the end of October and started making it and selling it to the stores December 1st. So it's been seven months and now we're in 61 stores across Canada. We just started selling in the States, so we have a store in Brooklyn, New York, that has other cheese and we're just growing really fast. New stores every day, new demand every day.
"Since the Dragons' Den, now we have five employees full time, so we created all these jobs. I remember saying that in the Dragons' Den, saying that we are going to create jobs. And everybody says, 'Yeah, well that's what everybody says but it never happens, but it did happen."
And it continues to happen daily at Georgian Bay Fauxmagerie. Plans are already underway for a new, larger facility being built specifically for the company's needs on Helen Street, not far from where they are now. At the moment the company can offer just three varieties of cheese, and that's partly because each variety needs to be cultured in seclusion from the others. A new facility will allow for greater variety as well as more production.
While the Meaford plant is expected to meet the Canadian market demand, the U.S. is another story.
"People were demanding from the States, saying 'we want your cheese, make it happen', so we had to work pretty quick and fast to get our FDA approval. It looks like now we've got the funding to go and open a production room in Arizona so we can satisfy the demand, so that's in the plan for this fall. It's going to be easier for shipping.
"It's a fresh product, it needs to be refrigerated, so to make it to California you always chance it with the border (and with Trump). We'd rather be there and make it there too, so we'll have two production rooms, one in Meaford for the Canadian side and one in Phoenix, Arizona for the American side. That way it's easier, but right now all the requests from the States, we ship to them and we cross our fingers. Now we have raised some money to be able to have a refrigerated truck."
Today Georgian Bay Fauxmagerie is a high quality plant-based cheese producer that is gaining recognition around the world.
"The process takes 15 days," said Marie-Catherine. "Each cheese is hand-crafted. There are only five ingredients, all natural, nothing that you cannot pronounce, which is key for us. We are low salt, so it's a very healthy cheese, very healthy alternative but, yeah, they are all hand-made, hand-crafted.
"And we are the only one that uses real bacteria in our cheese, too, in the world. Other companies don't really use other bacteria; our bacteria comes from France. The blue comes from Roquefort, which is where blue cheese was invented. So all our bacteria comes from France and we put it in the cheese to recreate the same taste. Without that, you cannot have the same taste. So we're more of a high-end cheese.
"We make over 2,000 cheeses a month right now and it's growing. It's a labour of love. We have a great team. We work altogether in the little space so ideas are flowing, and new names, new products, and we're very pumped by the demand that's coming from Germany, from Norway, and from all over the world. We're like, 'Sorry we can't at this time. We're working on it, give us time'."
Since the Dragons' Den, local cheese lovers have been asking for it as well.
"As soon as I won, the next day it was in the newspaper and I got the first order right away from a store in Port Elgin that reached out to me.
"My business model was to sell directly to stores and not to people so you have to go to Foodland in Thornbury now, they have it, or the Bulk Barn in Meaford. At first people thought it would be a small boutique on the main street but I knew by the demand across the world that it has to be more of a factory production and a wholesale thing.
"I don't think we will have a retail store," Marie-Catherine adds. "The girls are too busy making cheese for the demand. We do internet sales individually, shipping it to people's houses."
She says that the company "wouldn't exist today without the Dragons' Den.
"The money was essential to buy my first commercial blender. I could not have done it without the Dragons, money-wise, and second, the publicity around it was amazing.
"Whether or not you win, I think everybody wins in the end. The audience was amazing, and gives you so much energy to say 'I'm going to do this, it's going to happen and we're going to be successful'."